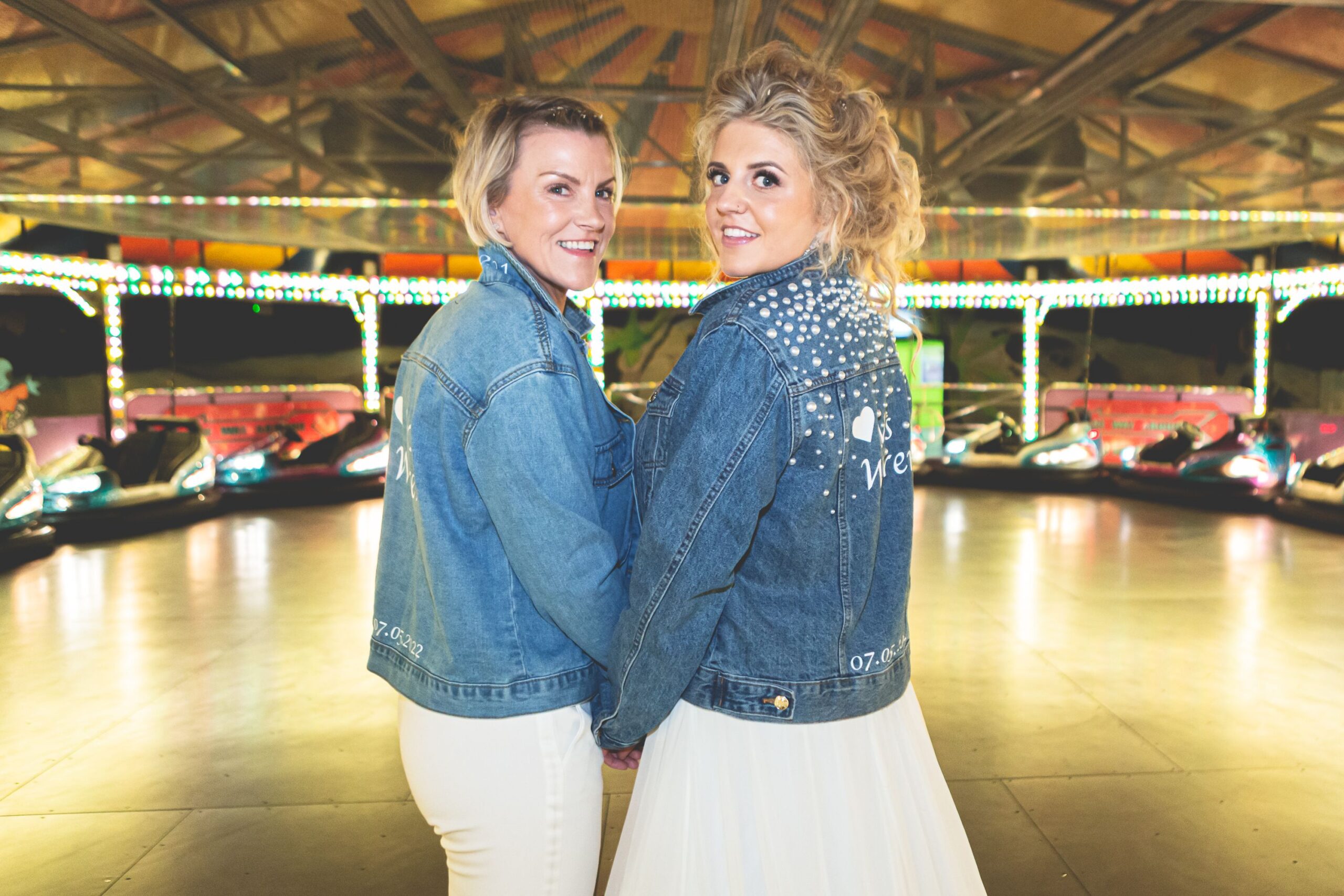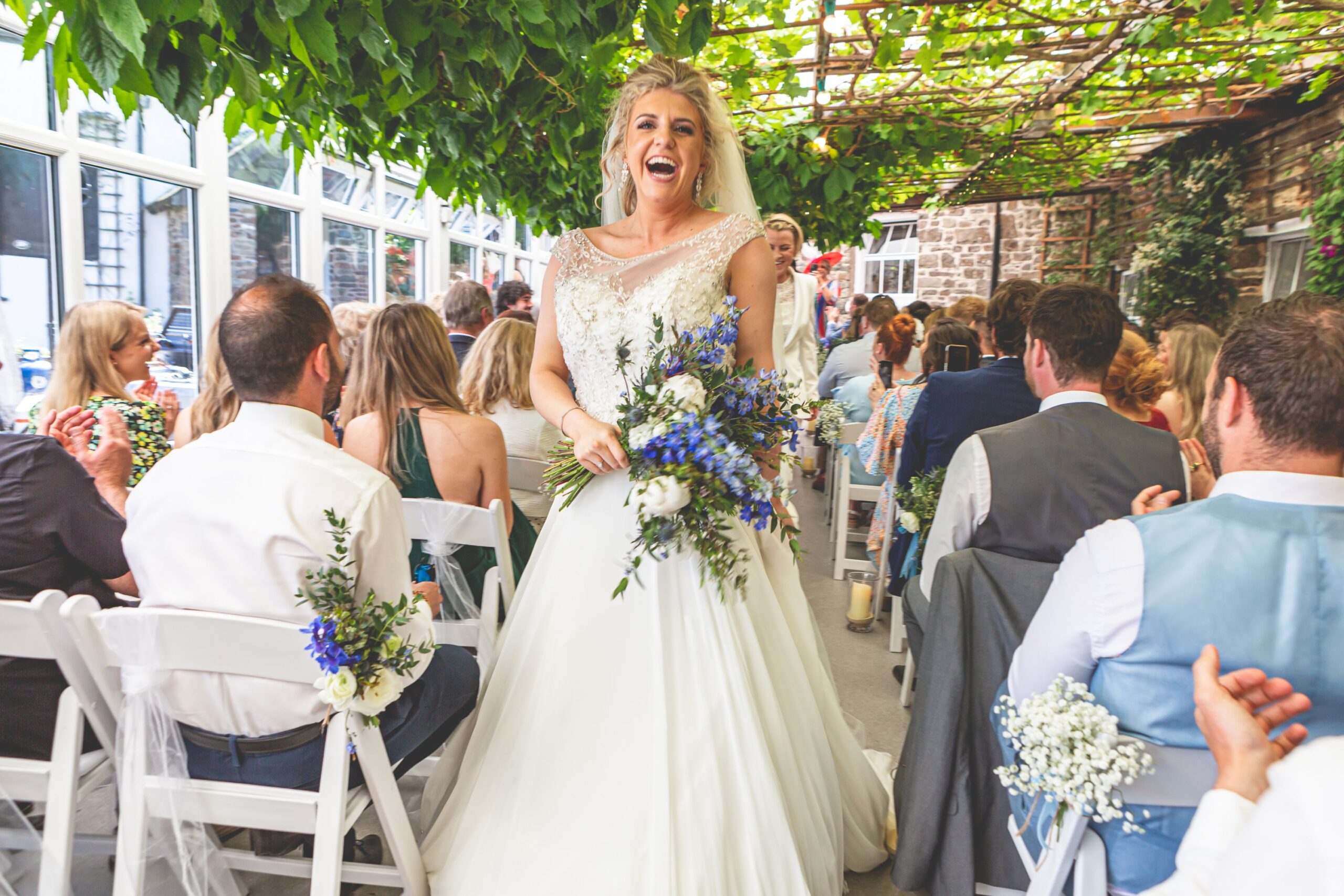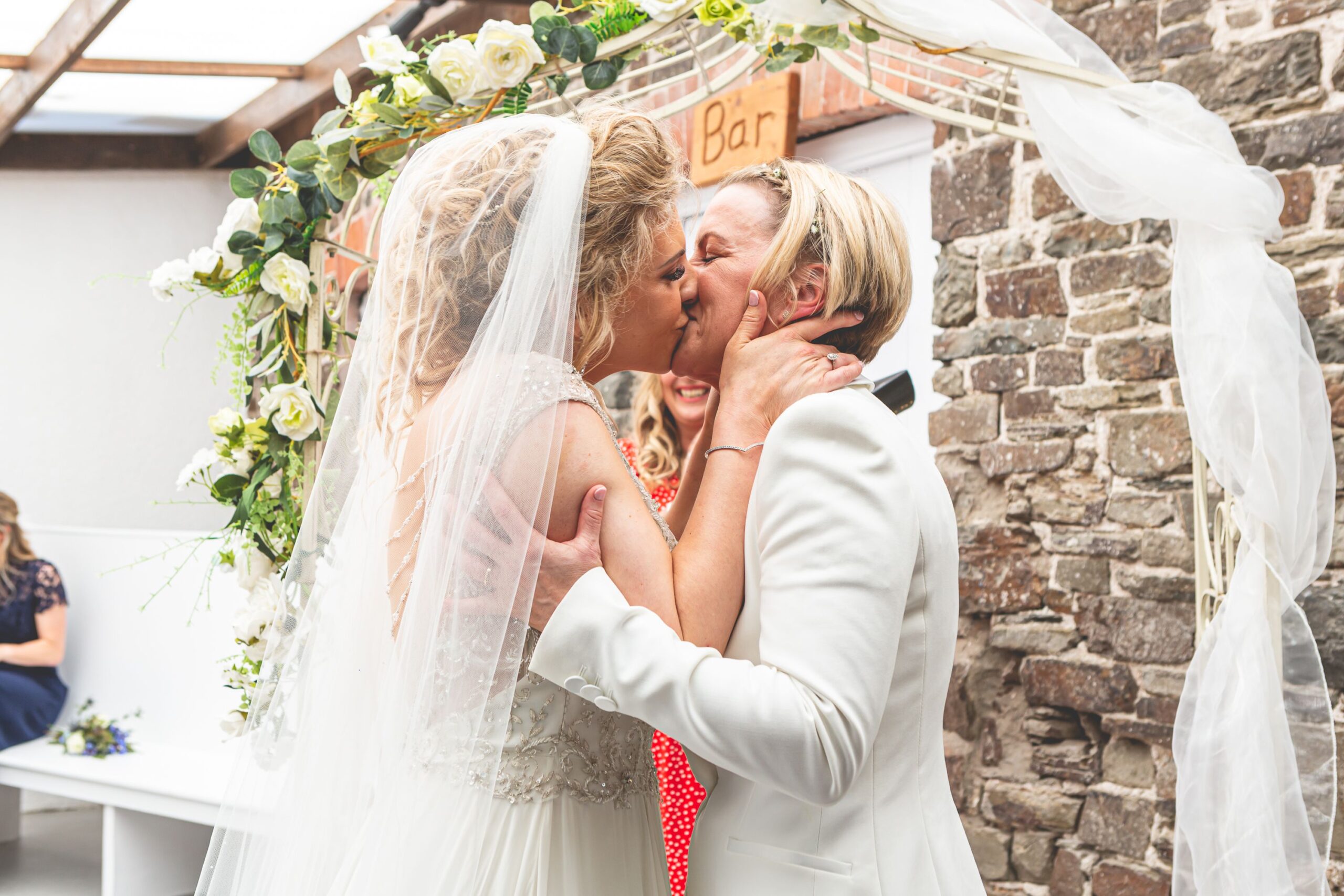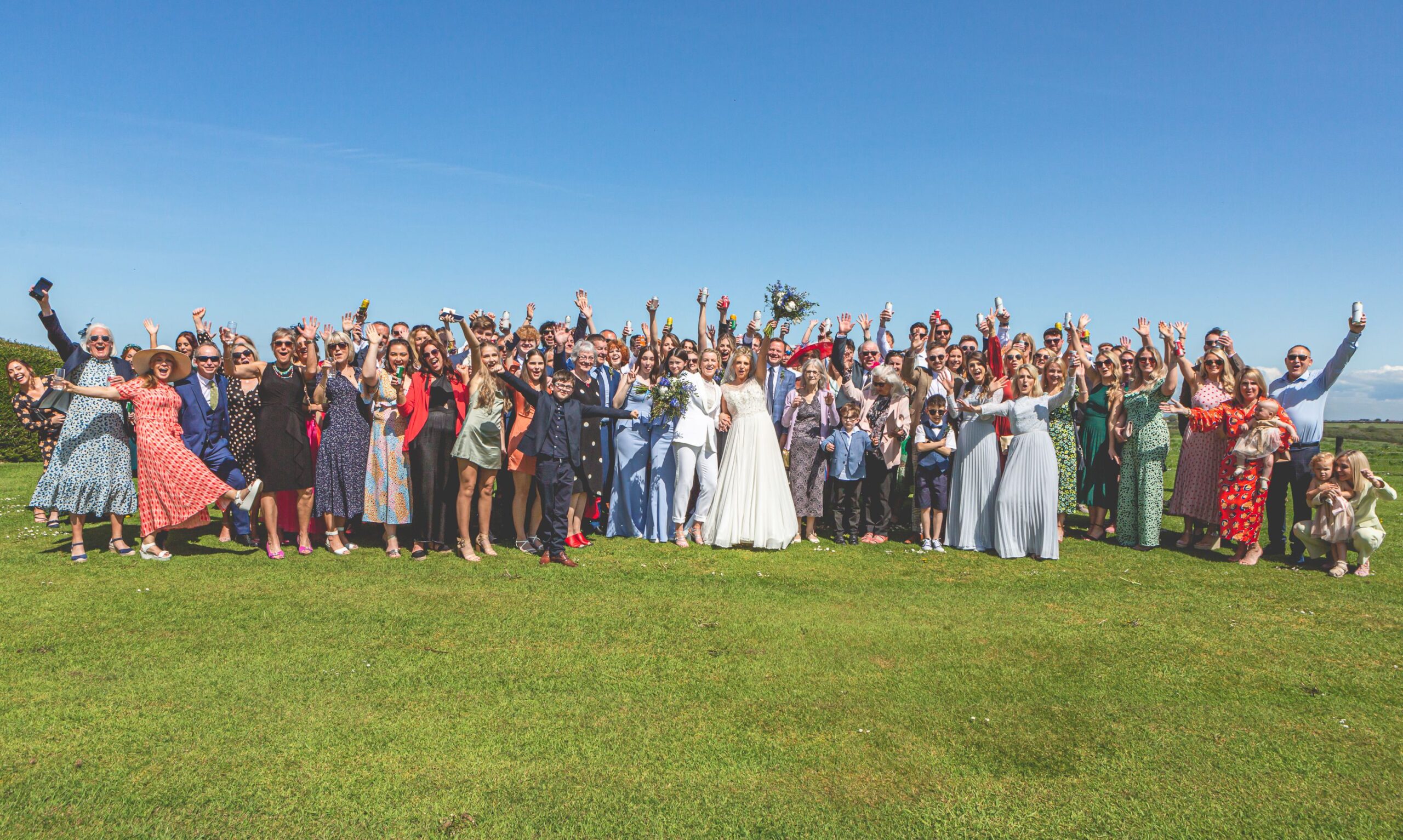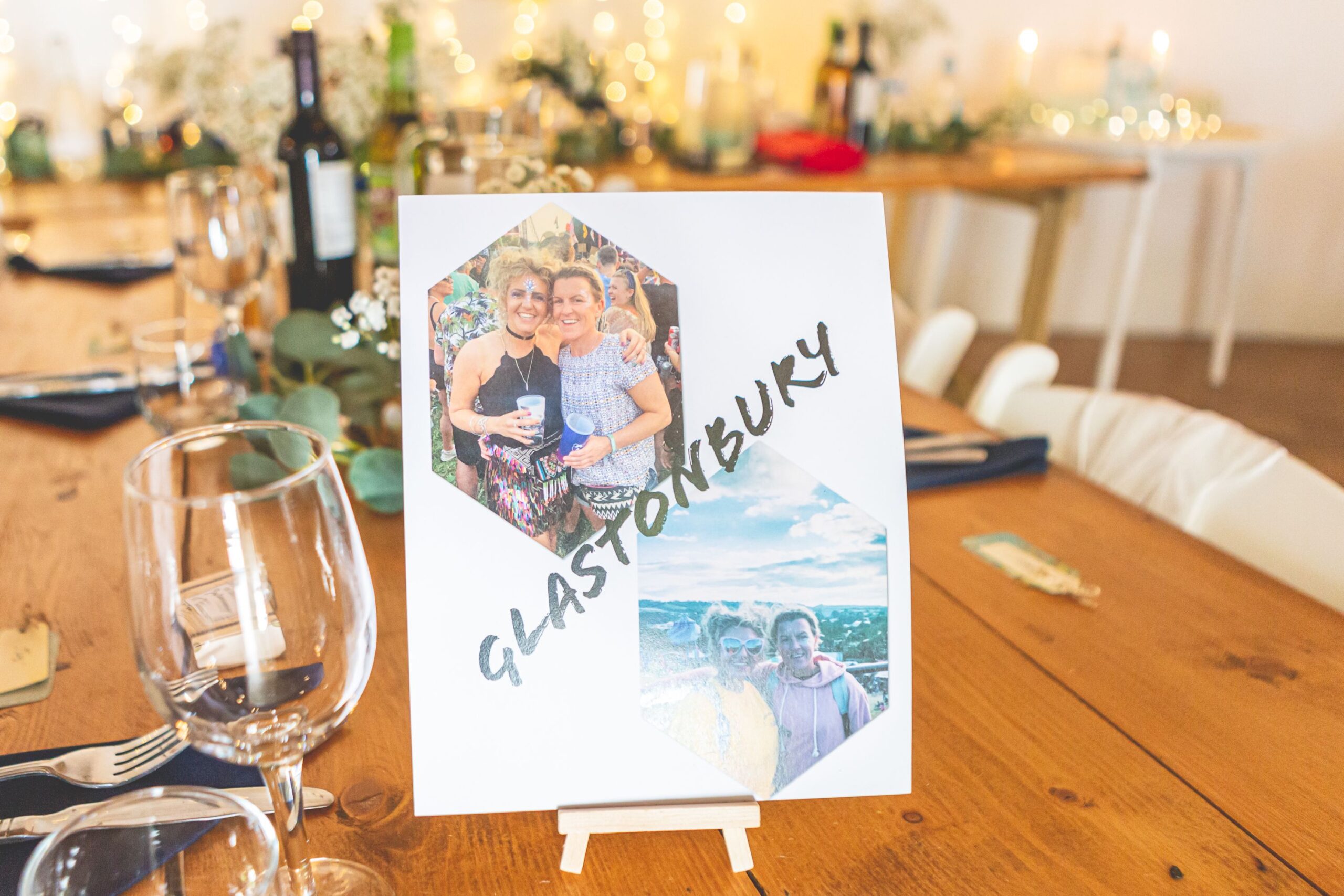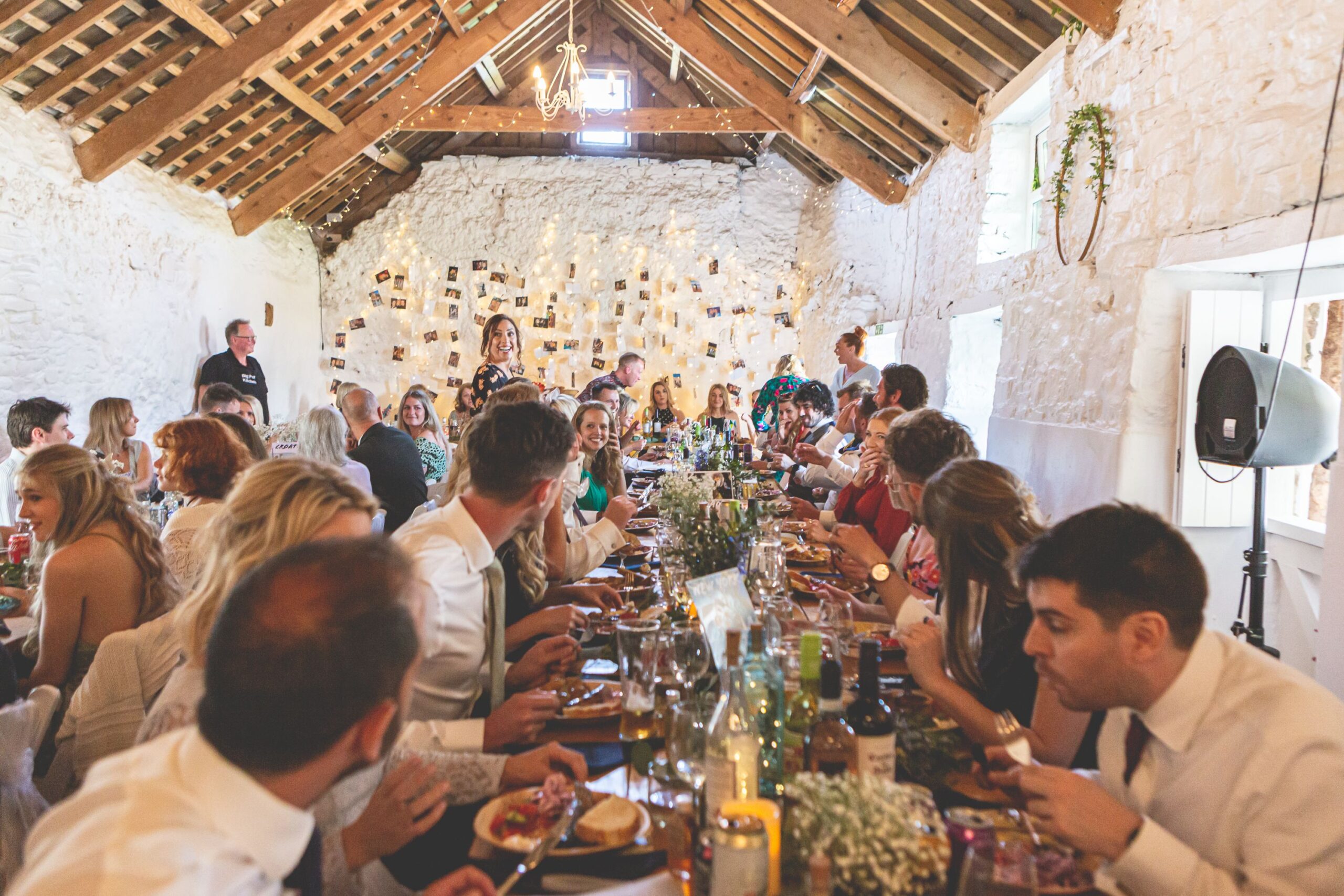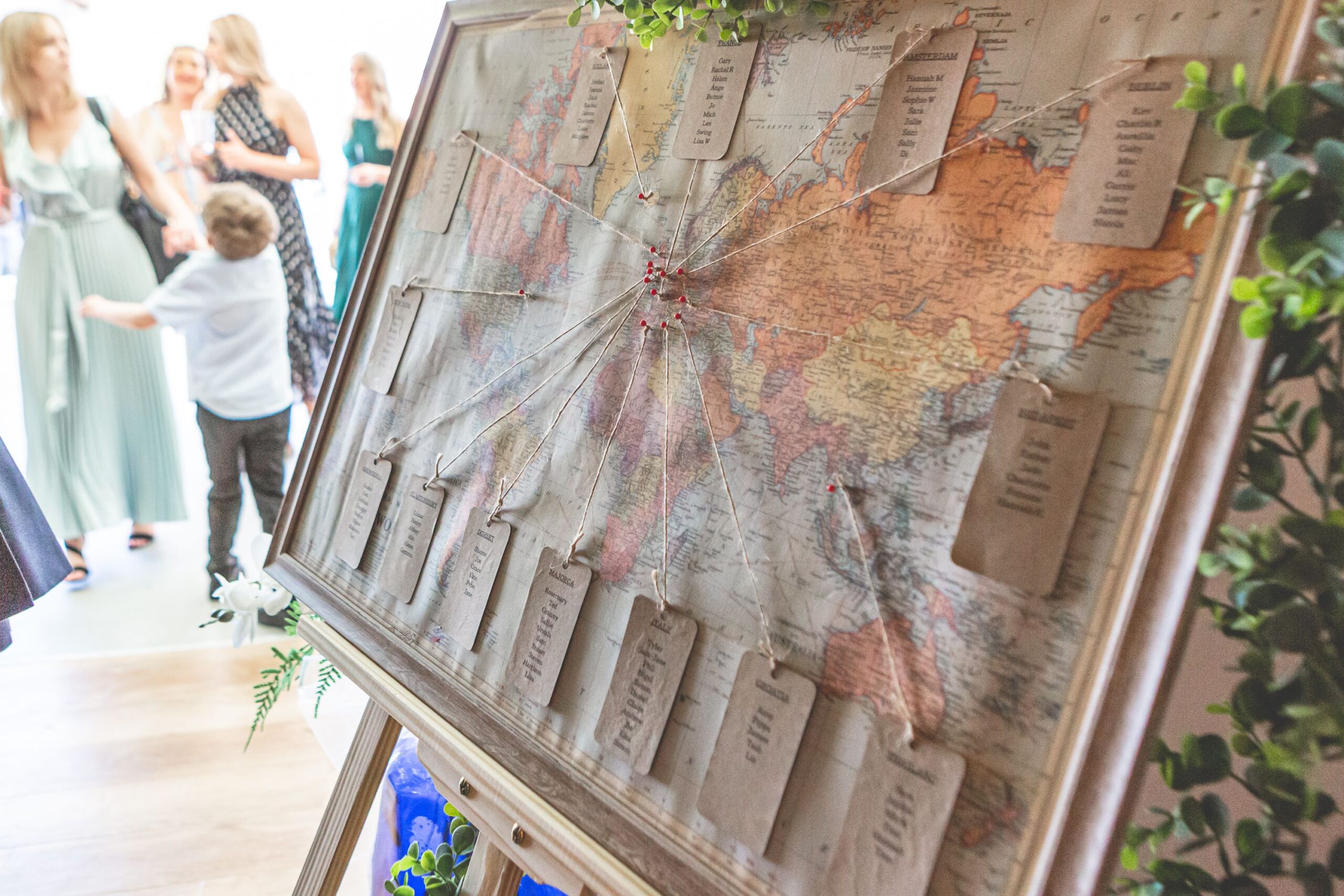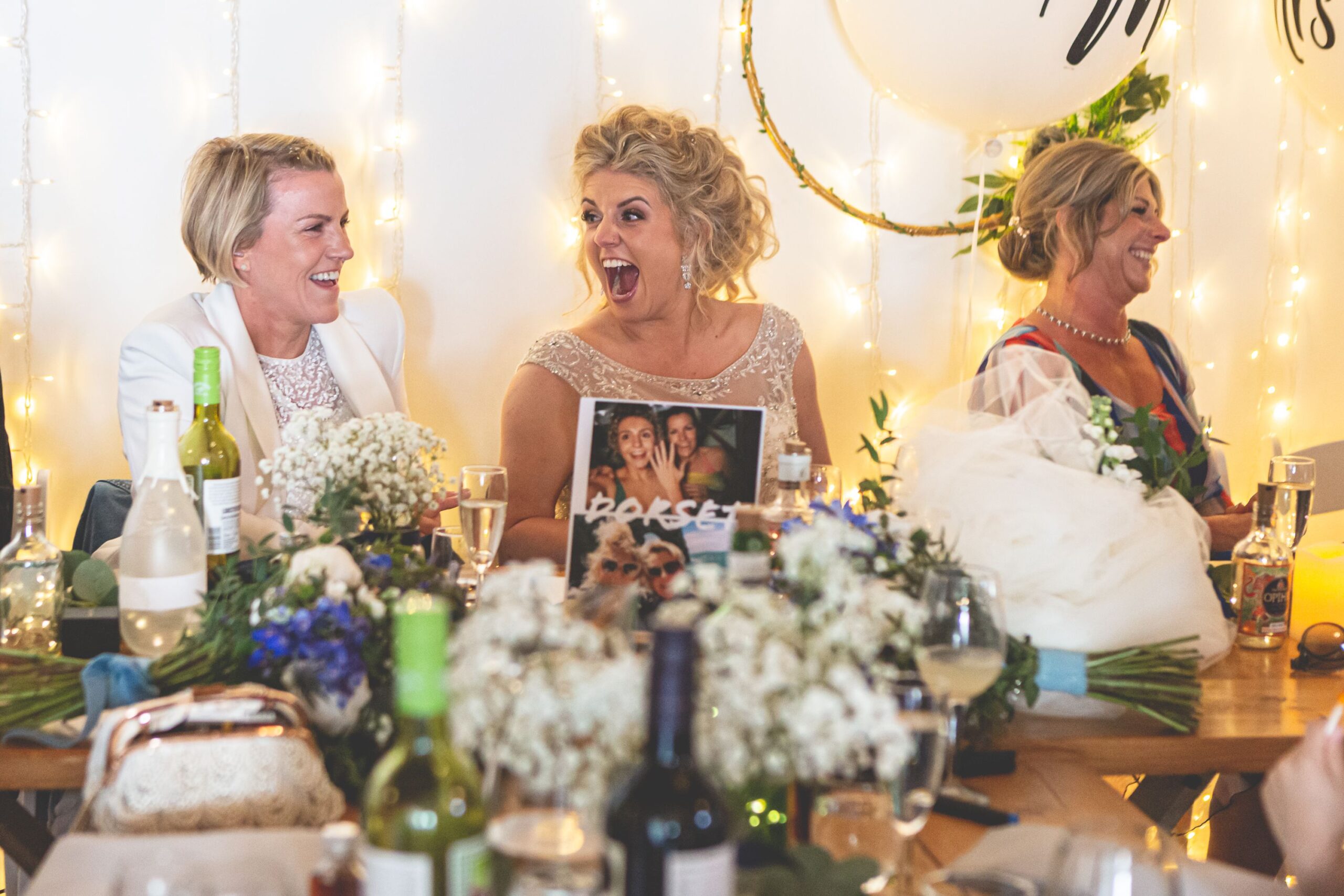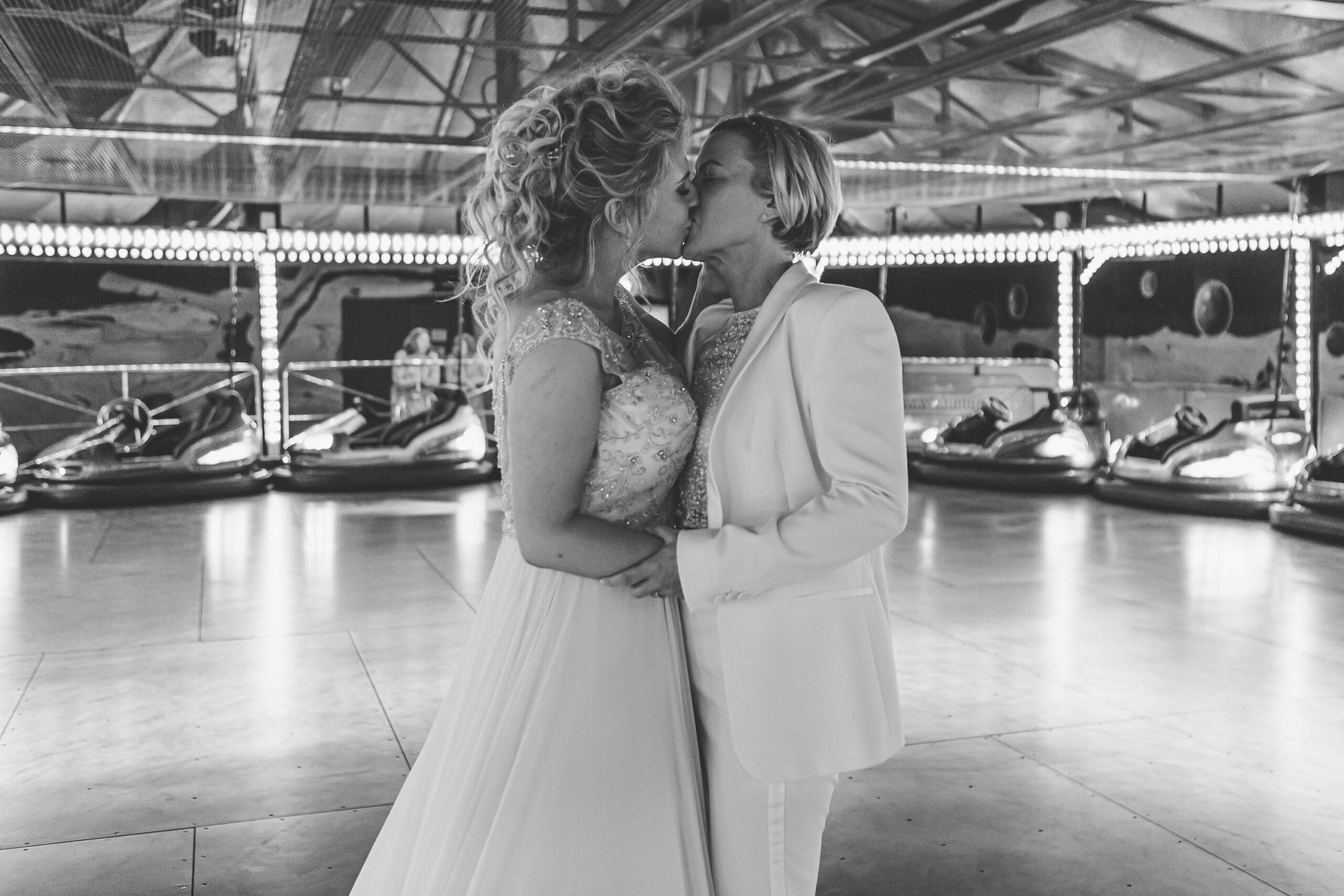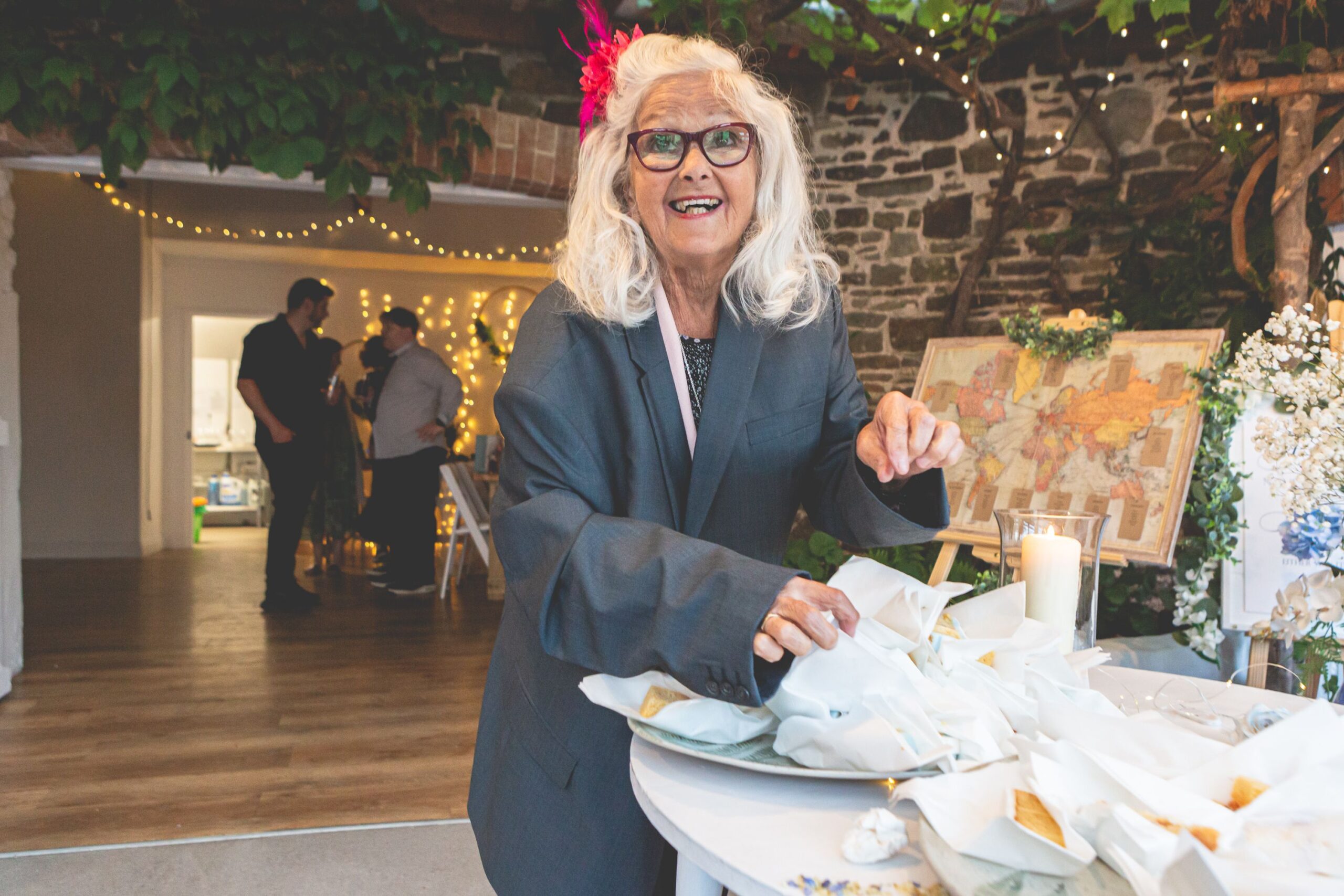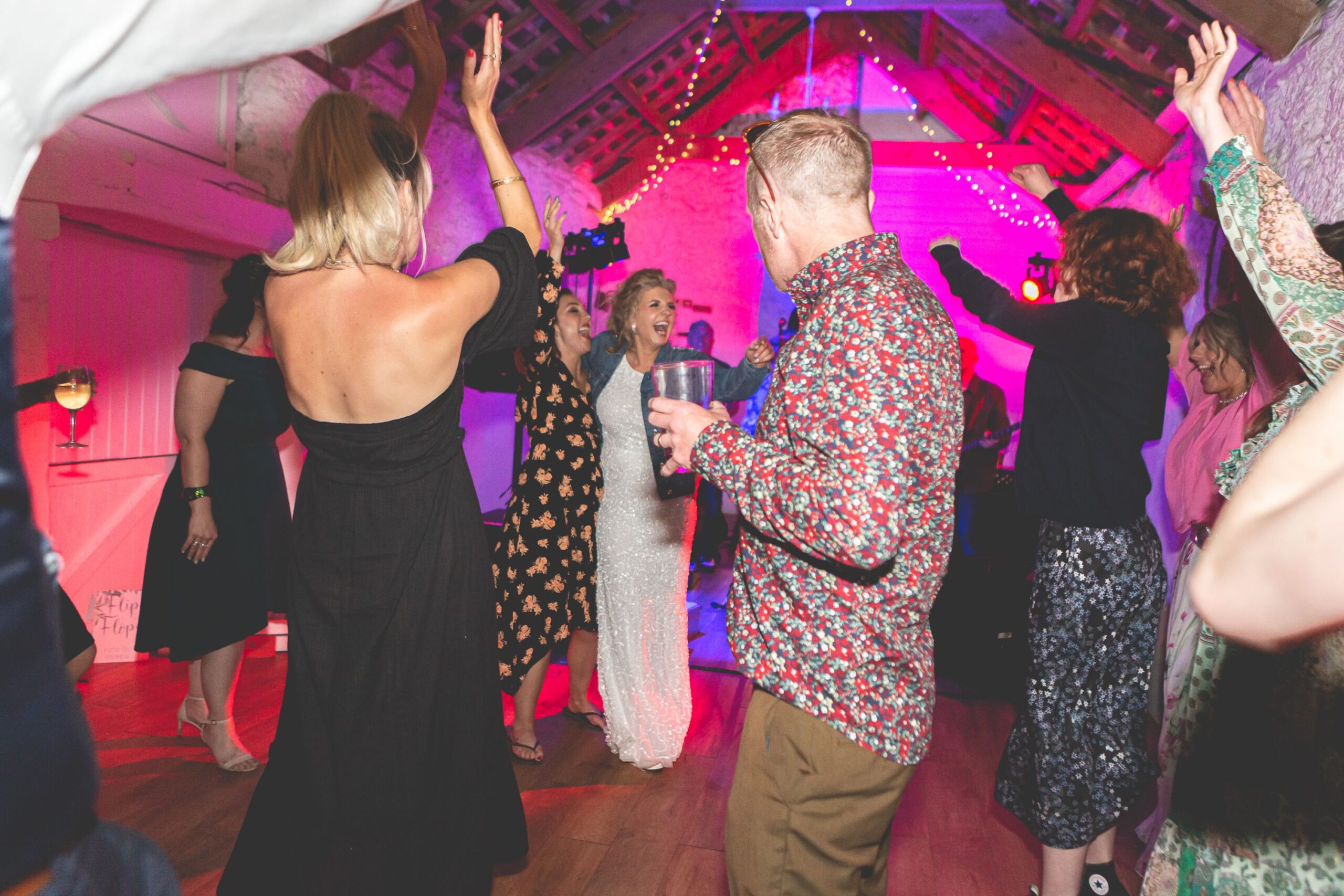 May 2022
Photos courtesy of Southwest Photo & Film
See lots more lovely photos of Grace & Kate's day in our gallery here.
Tell us a little about yourselves …
We're Grace and Kate, we're both midwives and we met at work in Bristol. I (Grace) am initially from mid-Devon and Kate is Bristol born and bred. We've been together for six years and this was our 3rd attempt at having our wedding at The Old Barn (thanks to Covid 19!).
What made you choose The Old Barn?
We immediately both felt very comfortable when chatting to Joss and being shown around. It was a relaxed environment and we both felt very at ease. We'd visited a lot of other venues before which were all so formal and not flexible. We wanted a wedding that was different from your average and this felt like the place for us … Dodgems at your wedding isn't the usual!
We also loved the flow of the barn, having the conservatory to get married in, the small garden (which created so much atmosphere) and the beautiful unique barn itself which created character. We wanted our wedding to feel busy, without being crowded and we have been to so many other weddings where your guests are all spread around and there is no atmosphere. This definitely won't happen at the old barn.
Was it important to you that it was a 'DIY' venue?
Yes – we a DIY venue because we wanted to choose who was doing our food rather than have options to choose from (like most other venues) and also to keep the cost down by having choice about where our money went. We also liked the idea of making the venue very personal to ourselves and using friends and family to make our day special. The venue is beautiful as it is and doesn't need much decoration but it was nice to put our own touch on it, decide what we wanted to add and create a wedding that we felt comfortable with.
Did you have a large budget?
No… this was one of the reason why we chose The Old Barn, to try and keep the cost down by doing things ourselves and choosing our suppliers. However, like all weddings we still went over our budget! 😛 The Old Barn was extremely well priced compared to other venues and the food recommendations were also great as again very reasonably priced and all of our guests really enjoyed it.
What sort of atmosphere were you aiming for?
We wanted to create a relaxed and fun atmosphere. We didn't want a traditional, formal vibe as we find this all a bit boring! We went for a travel themed day as we love to go on holiday and explore. We planned everything more than two years before we actually got married again due to Covid so the travel theme wasn't quite as relevant at this point. Like we said earlier you don't need much decoration in the barn but we had lots of greenery, flowers, fairy lights, personalised signs and candles.
What did you wear?
I  wore a dress from La Boutique Bridal in Exeter and Kate wore a suit from Zara. We kept the cost down as much as we could with our outfits to fit into budget.
Tell us about the actual ceremony …
The ceremony was very emotional after having delayed our wedding for two years. It was lovely to see everyone in the same room together celebrating our marriage like we should have in 2019. We had our official ceremony in 2020 as were fed up with waiting but this was in the local registry office with our parents only. We wanted this wedding to feel like our proper wedding day so to make it more personal Kate's best friend acted as the registrar on the day. I would definitely recommend this even if your wedding hasn't been cancelled due to Covid! Firstly, it saves the money of having a registrar at our wedding and also makes the ceremony how you want it to be – it was emotional, funny and personal.
What about your food and drink?
At The Old Barn we had a set amount of alcohol corkage free which was great and the allowance was plenty! We had a very relaxed welcome drinks service with cans of beer, cider, gin, Pimms, vodka, rum and loads of soft drinks. The guests loved the welcome drinks as they could just go and help themselves. We then allowed half a bottle of wine per person for the meal, did gin shots as our favours and then a glass of Prosecco as a toast. It's never good going to a wedding with limited drink and this wasn't the case for us!
We used the Big Pot Kitchen for our day and evening food. They were fantastic and I cannot recommend them enough. They've worked at The Old Barn before so knew how it should be run, the food was amazing and their communication before was great! Our evening caterers pulled out about 3 weeks before the wedding and the Big Pot Kitchen stepped up and covered that too, we couldn't be more grateful for their service. Our guests have fed back how great the food was, there was plenty of food but they still managed to eat it all as it was so good.
What about entertainment?
We had our friend Jack, who sings and plays the guitar, play for welcome drinks and canapés. It was a fun and festival themed vibe. We also had Patrick Aitchison, a magician, who was soooo good! He went down very well with all our guests and was also so reasonably priced. Then we had a band that we know well from Bristol who played in the evening.
What did you love most about your day?
Having everyone with us in one room together after two years of rearranging! It was such a lovely day filled with laughter and love. When we look back at all the photos everyone is so happy, smiling and laughing, and that's what you really want at your wedding.
What did your guests think of the dodgems?
The Dodgems were an added bonus. Who has dodgems at their wedding? It makes your wedding unique and the guests loved it. Unfortunately, I couldn't go on the dodgems as was pregnant on the wedding day but Kate went on them! Drunk people and dodgems …. it was fun to watch anyway! There were grown men who went on them 9-10 times!
Are you glad you had the day you did?
Yes! We were very lucky with the weather and the day just flowed so perfectly, it went so quickly and we would love to do it again!
Did you feel well taken care of by The Old Barn team?
Joss is amazing! She communicated throughout with all the cancelled dates, was accommodating with our requests and went above and beyond. I always emailed her loads of questions and there was always a quick response. We never felt like we were a nuisance. On the day Joss ensured it ran smoothly and was there to sort everything.