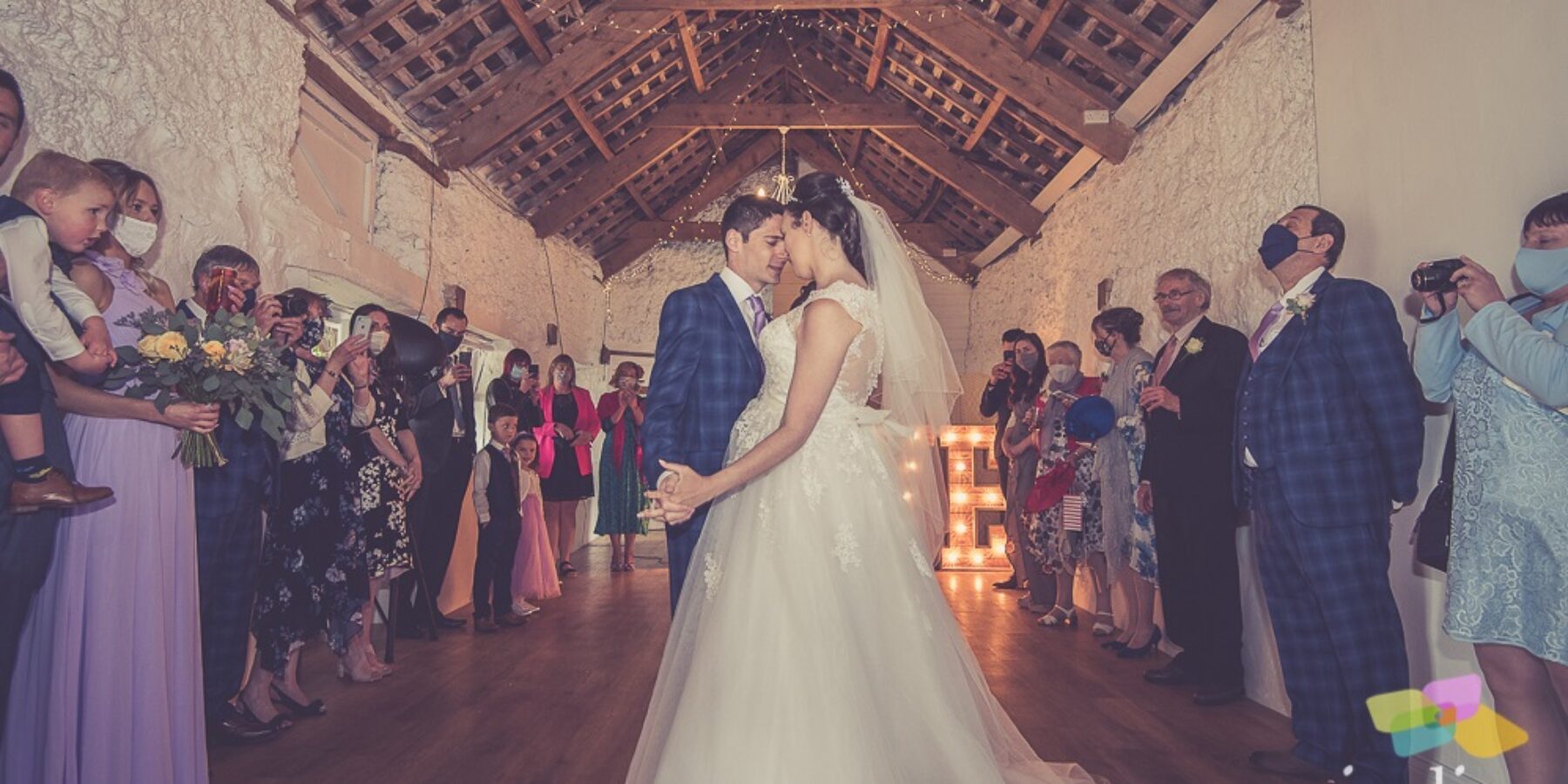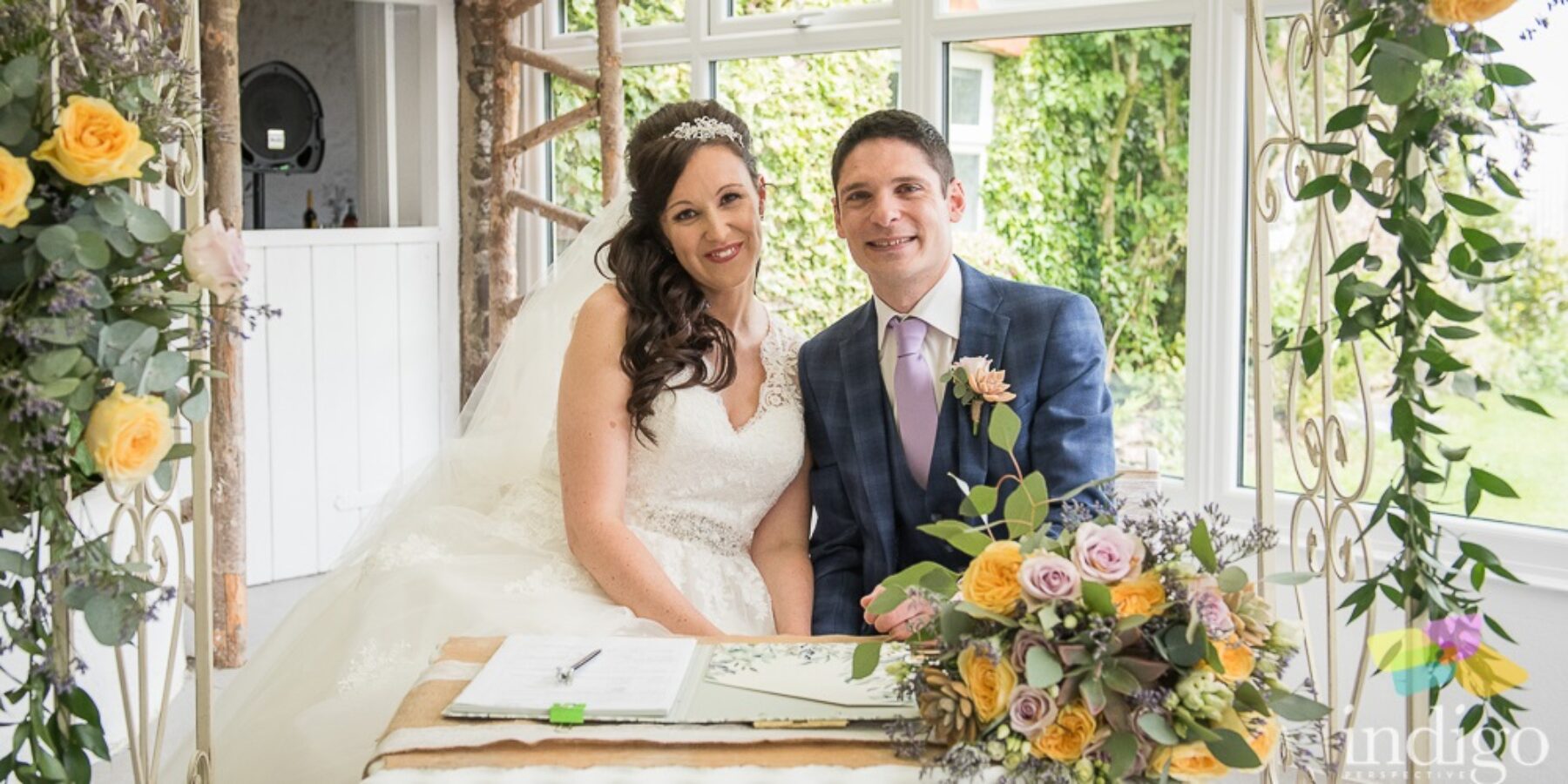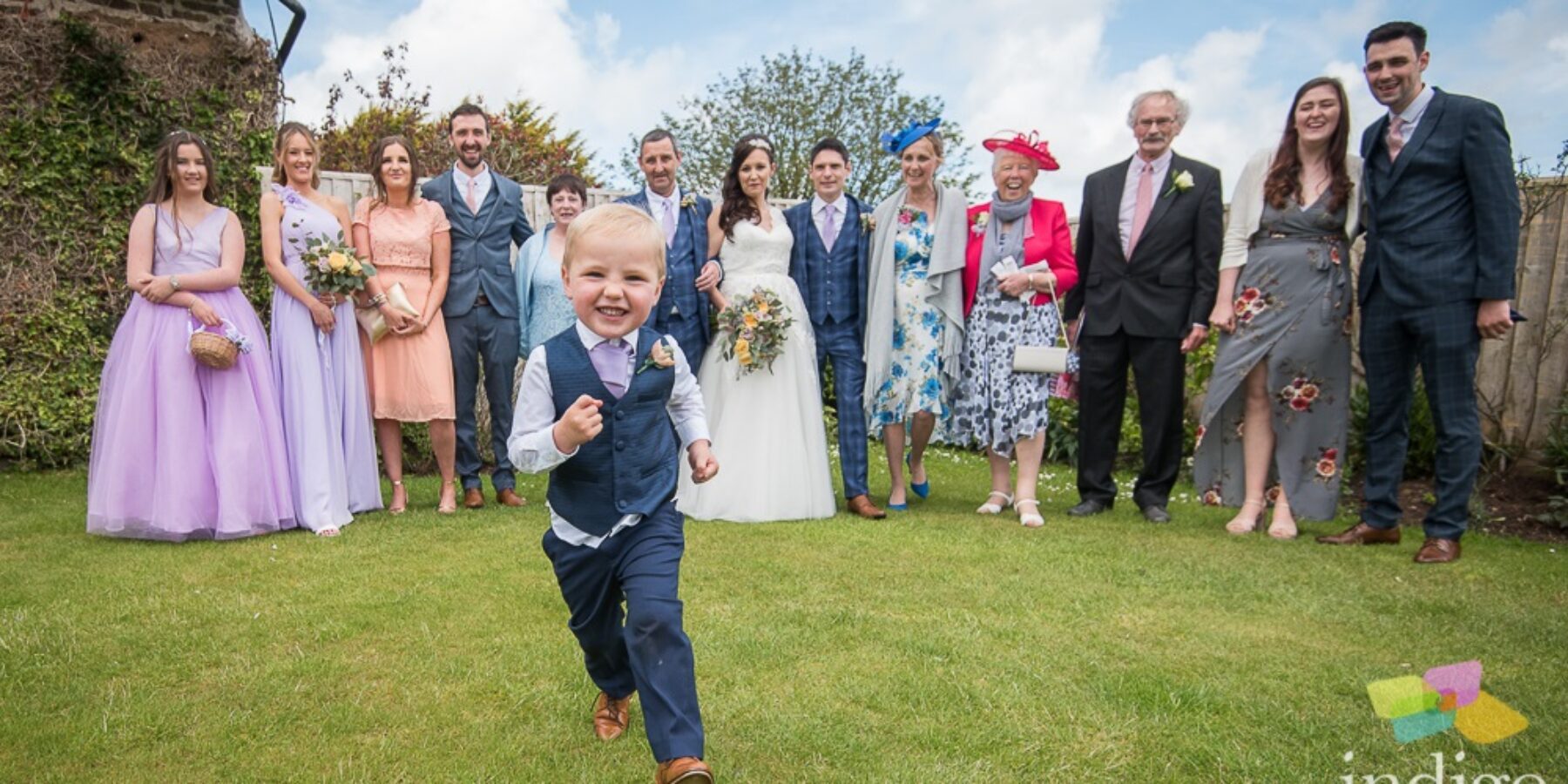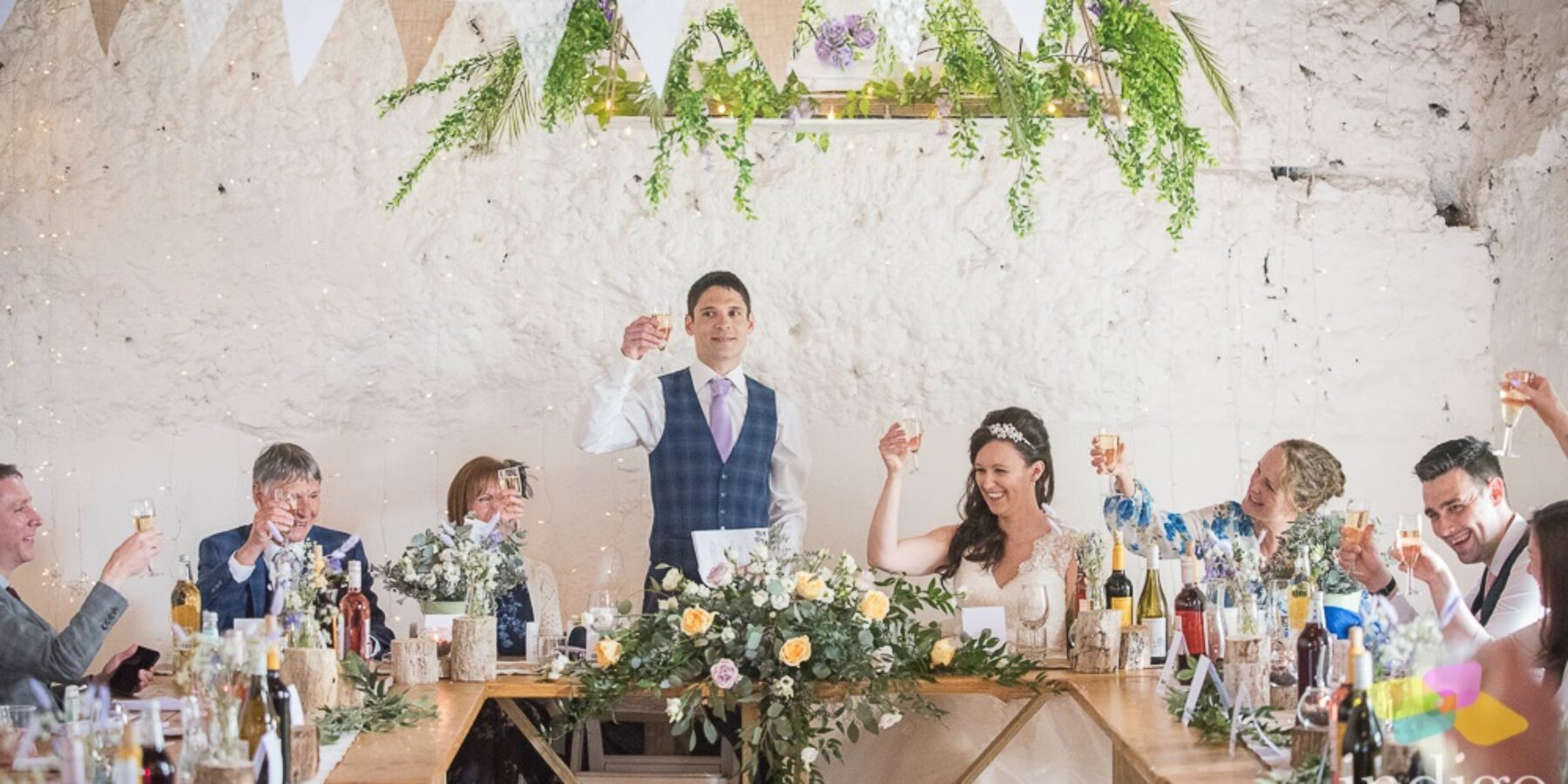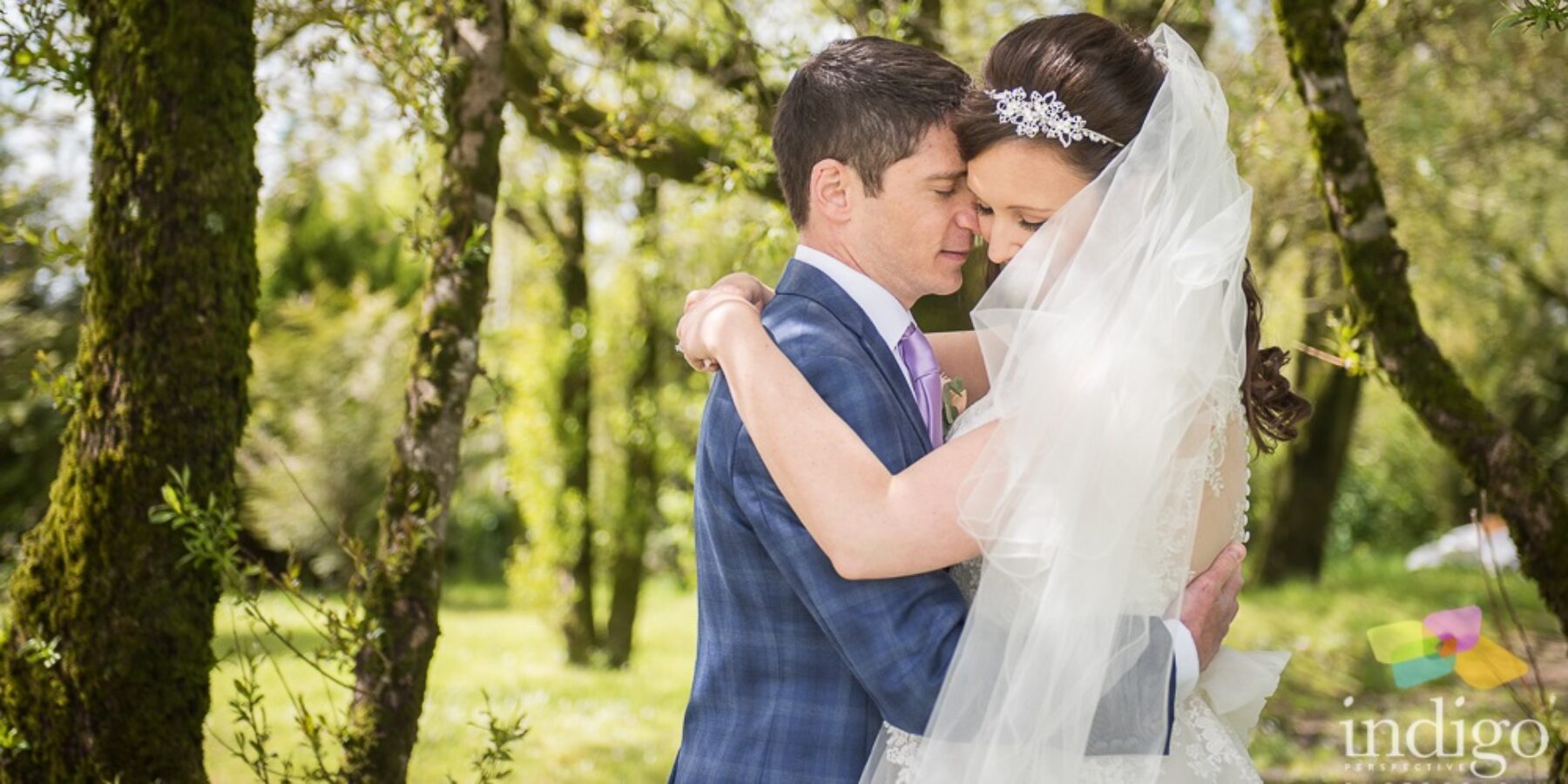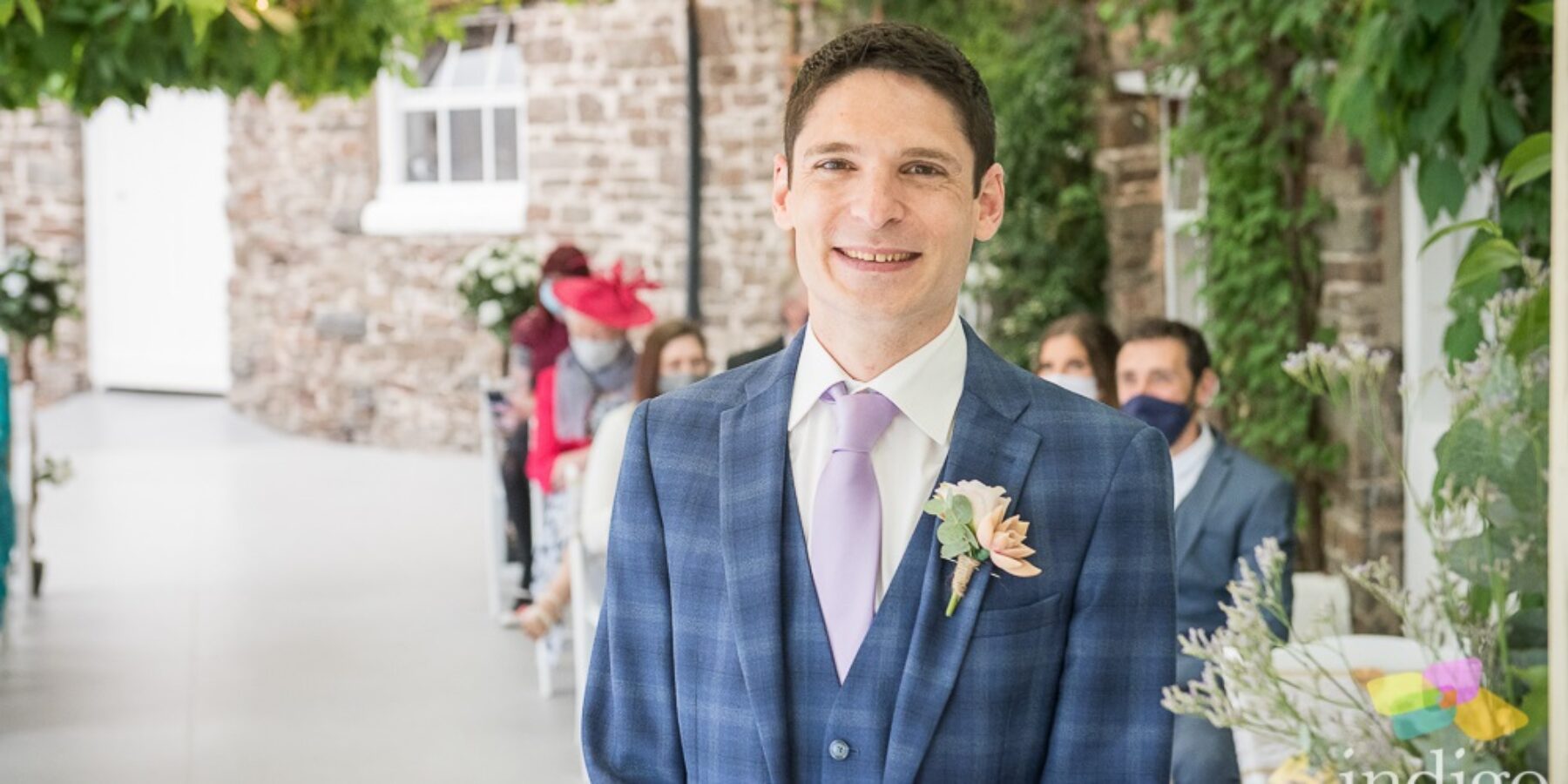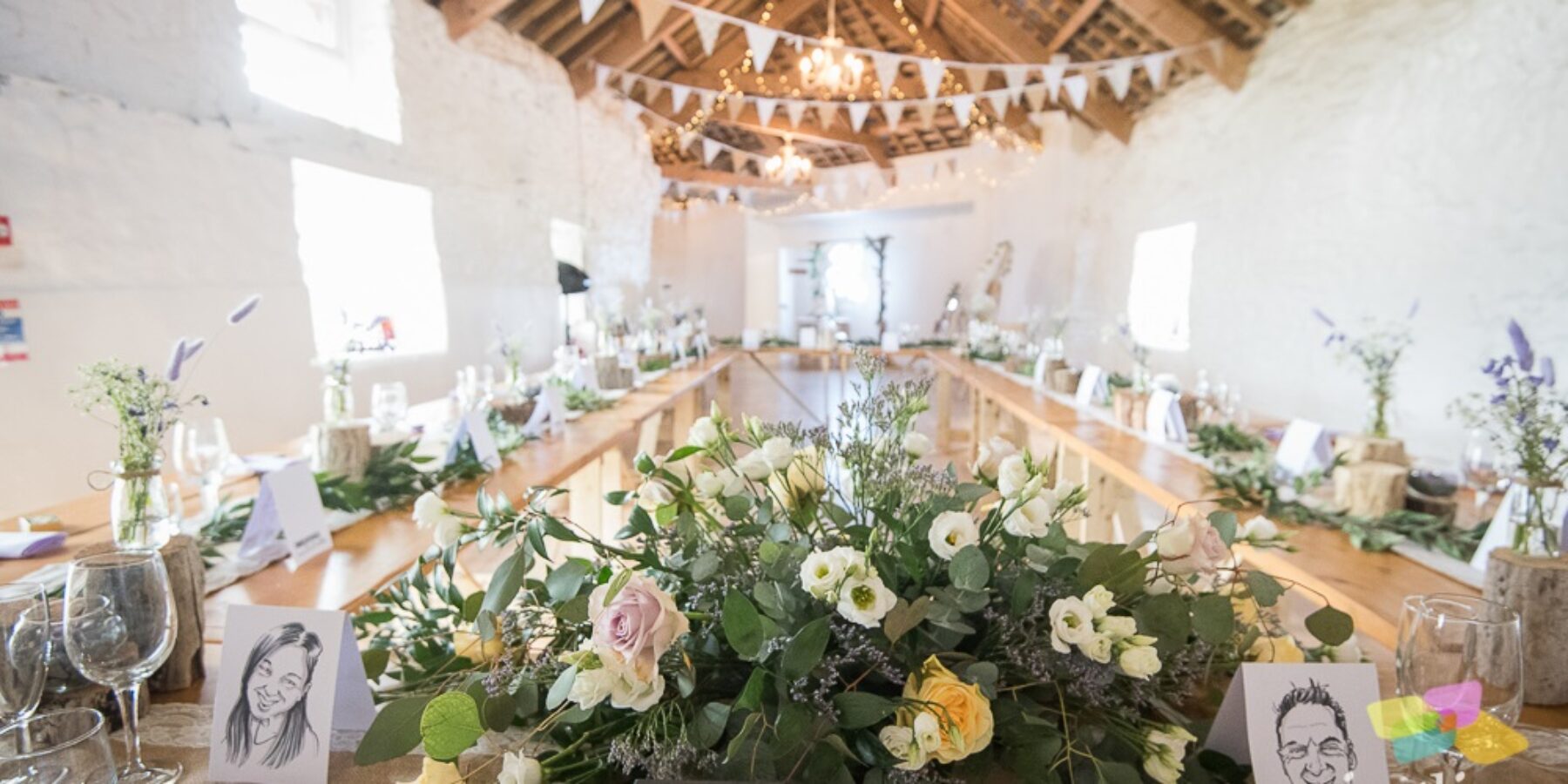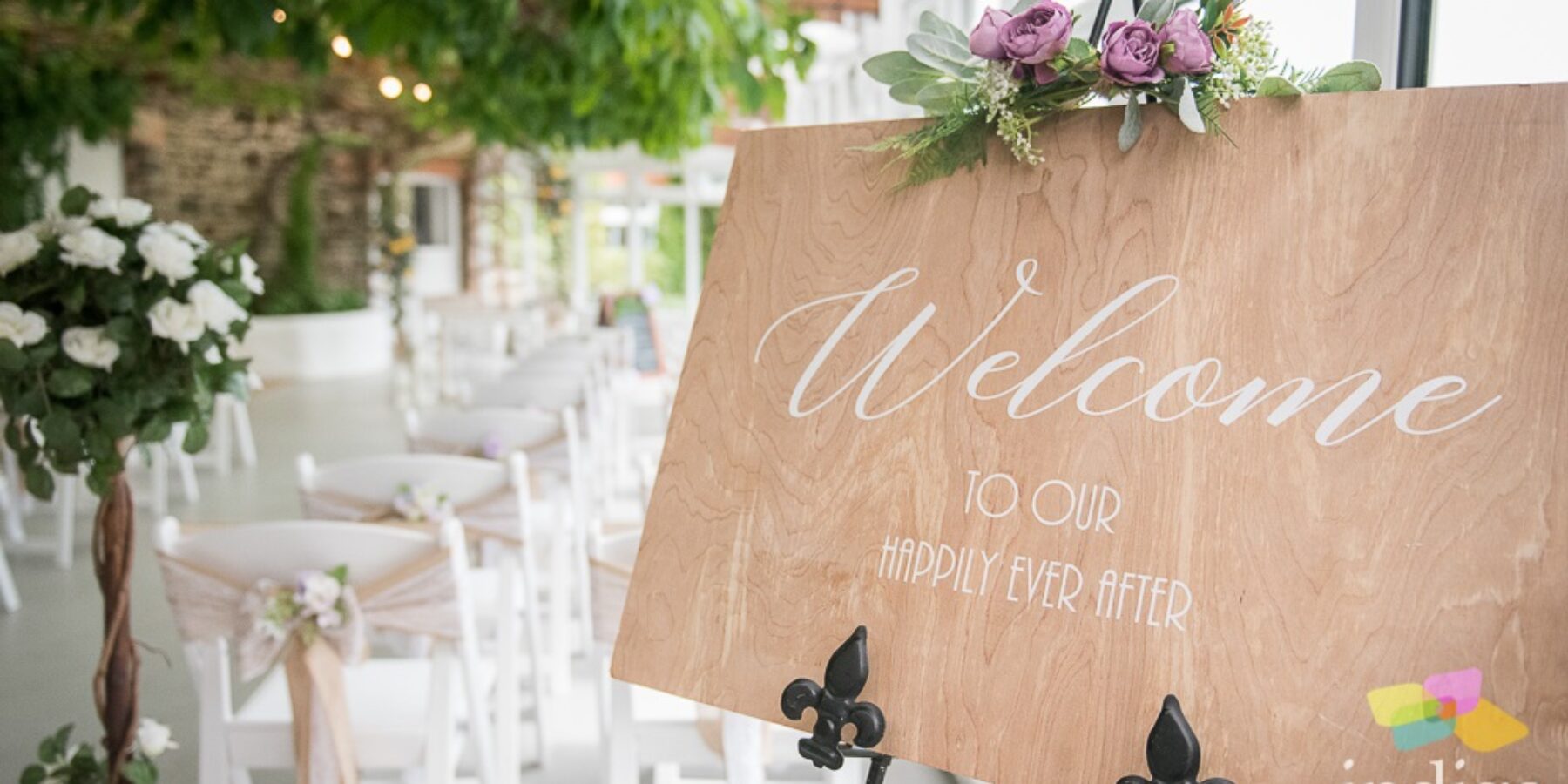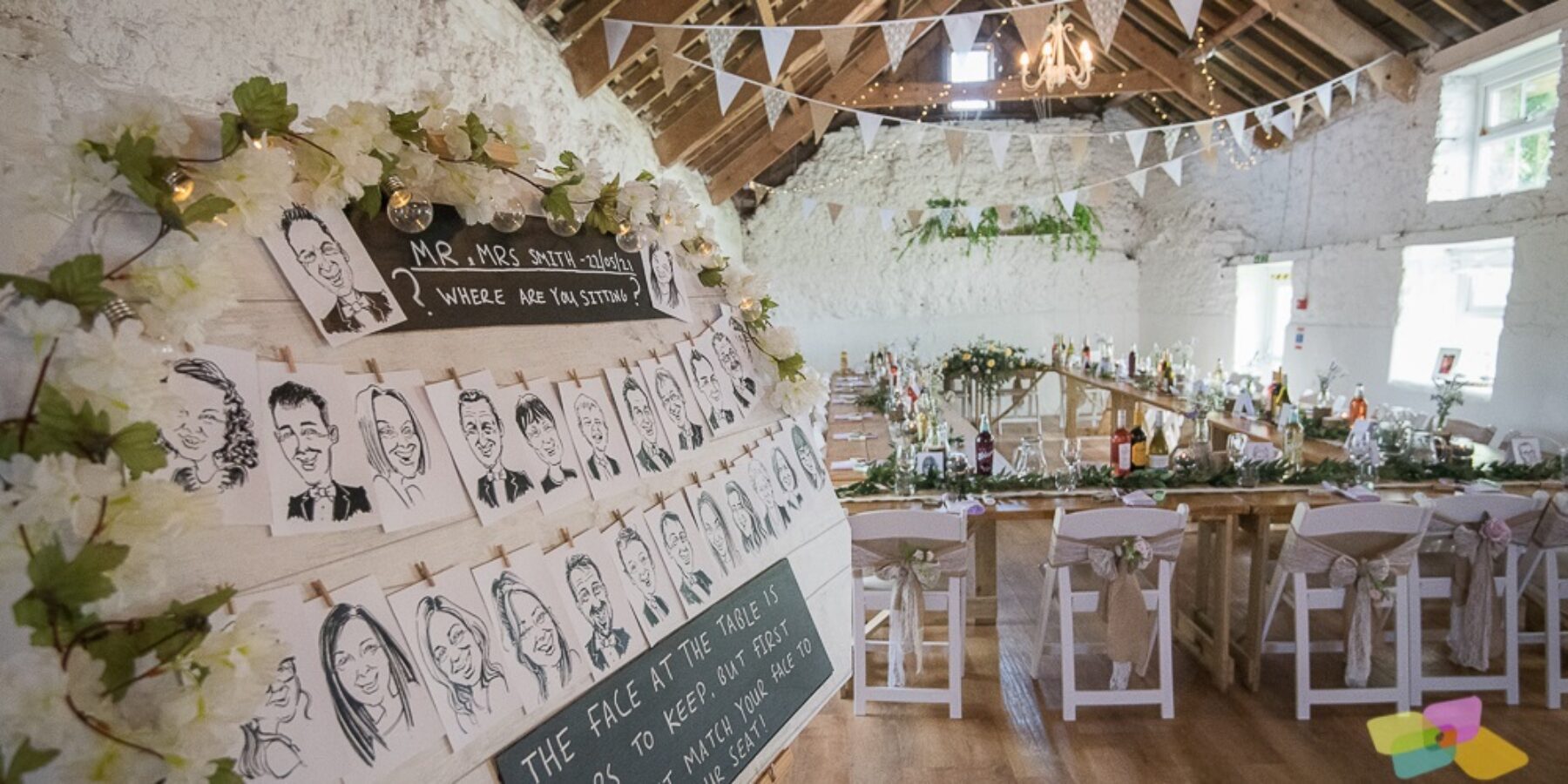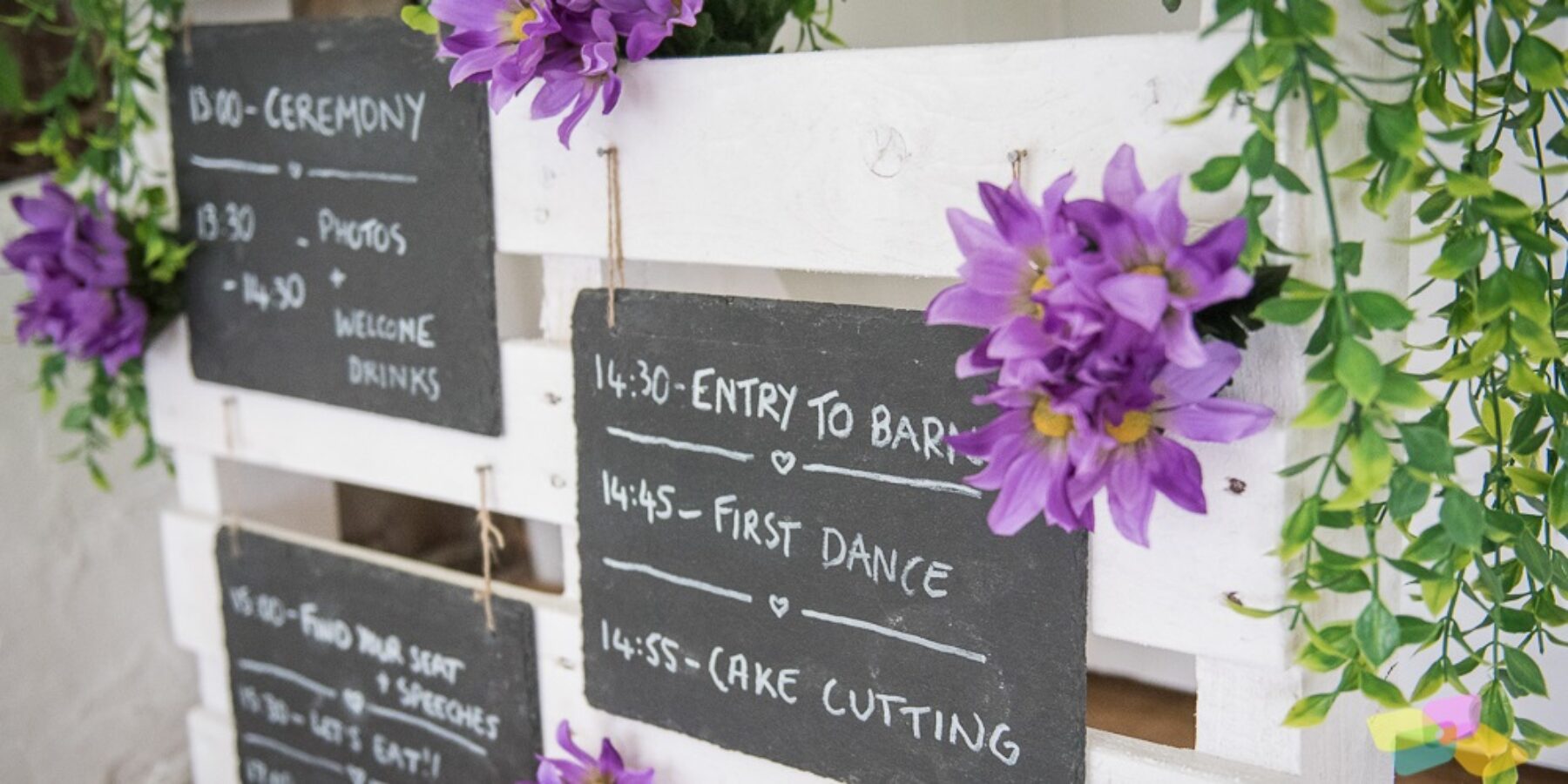 May 2021
See lots more lovely photos of Steph & Pete's day in our gallery here.
Tell us a little about yourselves …
I'm Steph, aged 34, and I'm a Holiday Consultant at Braddicks Holiday Centre. My husband is Pete – he's 35 and a Food Manager at Sainsburys. We live in Bideford and actually met on Tinder (good old modern dating!)
What did you like about The Old Barn?
We were looking for a budget friendly venue with character and the potential to DIY. We wanted something a bit different and we had been guests at two previous weddings at The Old Barn, so knew the layout of the venue and how beautiful it is, especially the conservatory with the pretty fairy lights entwined within the vine clad beams and the stunning chandeliers in the barn itself. We can be quite a quirky couple and the opportunity to hire a venue that we could decorate ourselves to reflect our personalities and relationship was perfect for us. Also, with the option of being able to hire the dodgems it meant that we had something a little extra special for our entertainment that our guests did not expect!
Was it important to you that it was a DIY venue – i.e. you could do lots of it yourself?
Absolutely! It meant we could choose our own suppliers and our own decorations for the different rooms at the barn and completely personalise the wedding to us as a couple, all the way down to the fun table plan and ceiling decoration that Pete spent time perfecting, which was just perfect. There was also a bit more excitement surrounding the guests' reactions because we had chosen and designed much of the decor ourselves and you also get that extra bit of satisfaction from it when it is all set up and seen by the guests for the first time. It was completely fine-tuned to us as a couple!
Did you have a large budget?
Unfortunately, COVID-19 hit whilst we were wedding planning and therefore our budget changed over time as sadly guest numbers were drastically reduced from our original plan. Also our evening entertainment and band needed to be cancelled due to government restrictions, so our budget did vary along the way. But right from the start we found The Old Barn to be extremely well priced in comparison to other DIY barns in the area and this allowed us to spend more on other things.
What sort of style did you go for?
As a couple we love games and puzzles, being a bit quirky and having fun, so our theme surrounded those things. We wanted a rustic feel, which is something the barn itself offers even before choosing décor, and we very much wanted to include the colour lilac as it is my favourite colour! Our wedding cake, made by the wonderful Emma at Mrs. Smudgers Kitchen, was traditional at the front with rustic touches and had a hidden panel full of icing board game pieces at the back which was perfectly suited to us and also included a Tinder theme bride and groom at the top to incorporate how we met! It was definitely a focal point in the room. We hired the fantastic Caricatures By Luke Warm to draw all of the guests for us prior to the wedding and we used the individual drawings as the guests' table places. The guests then had to guess where they were sitting by 'finding their face' at the table which added the element of fun we were hoping for and was a brilliant way to break the ice on the day. We handpicked lilac flowers for vases on the tables and each guest was given a small puzzle or game to try their hand at and take home with them as favours!
What did you wear?
My wedding dress was a beautiful princess style dress paired with a stunning veil and tiara, bought from the lovely Susie at The Wedding Collection in Barnstaple. I also wore a beautiful hair piece given to me as a gift by Pete on the morning of the wedding! For the male wedding party, we hired suits from Moss Bros in Exeter in a navy chequered blue style, again something a bit different to the traditional style suit and top hat but just what we wanted for the day. The bridesmaid/flower girl dresses were bought online and the page boy suits were from Next and were all very reasonably priced!
Tell us about the actual ceremony …
The ceremony was just stunning. The conservatory looked incredible and the guests could not compliment it enough. The flower girls/boys walked down the aisle first and the staff at The Old Barn were great at keeping them entertained whilst waiting to walk down and also giving them the confidence to do so. As they walked down, they threw petals and carried signs and were then followed by my bridesmaid with myself and my dad at the back! Joss was fabulous and helped me keep calm and showed me how best to hold my flowers (I didn't have a clue!). It was an emotional moment for both myself and Pete when we met for the first time on the day and an unforgettable, completely beautiful one. It rained the whole weekend, but the sun came out and shone down on us just as we were saying our vows which is something that I will always remember (and it stayed out for the rest of the day!). We did end up having a giggle at the end of the ceremony as a large floor candle attached itself to my dress as I was walking to sign the register!
What about your food and drink?
Trevor at Big Pot Kitchen was the supplier for our food which was fantastic and popular among guests. Due to COVID-19 restrictions we had to scale down the amount of food we had planned for drastically as there were fewer guests but Trevor was so accommodating and rather than having food served in the big pot as we had planned Trevor used the kitchen area and him and his colleagues kindly served us at the table which was a huge relief. We had mixed platters to start that included cheeses, olives and crackers, followed by sausages with cider potatoes and crusty bread for our main and finally Eton mess for dessert! Very rustic and yummy!! The Old Barn offers the bride and groom the option to supply their own drink corkage free up to a limited amount so we bought our own drink for the tables!
What about entertainment/music?
Unfortunately, due to COVID-19 restrictions we were unable to have evening music/entertainment as such however we were still able to perform our first dance, which was still just as lovely. One of my favourite photos from the day is our first dance photo with our guests surrounding us as all of our nearest and dearest are present in the same photo, a very special moment in a beautiful setting! Fortunately, we managed to pull the dance off as we had only practiced it for 20 minutes the day before!!
What was the best part of the day for you, or the thing you loved most about it?
Everything! It is impossible to choose a stand out moment. The ceremony was just the most special moment ever, the venue looked incredible, the first dance was gorgeous, the dodgems were so much fun and watching the guests try to find their faces at the table was so entertaining! The year had been so difficult with COVID-19 and lockdowns that it was just lovely to see the guests altogether, smiling and having fun which made it that bit more special!
Did you go on the dodgems? What did your guests think of them if so?
I was actually pregnant on the day so was unable to enjoy the dodgems although I did manage to get a photo with Pete sat in one of them! Pete and the guests had the absolute best time on them, in-fact my Mum was a little wary at first and next minute I was being handed her handbag by her so she could go on them time and time again! My nephew also had his first experience of the dodgems on the day and we couldn't get him off at the end, he loved them so much! Pete's dad has the best photos of all of the guests enjoying them!! I would definitely recommend hiring them, they are something different and everyone had the biggest smiles on their faces when they came off! You can also supply your own playlist!
Are you glad you had the day you did?
Absolutely, it was the most memorable fantastic day and we would do it all over again if we could!
Did you feel well taken care of by team at The Old Barn?
We felt completely well taken care of. Joss was fantastic, we had to re arrange due to COVID-19 restrictions and the Joss and the venue were completely flexible and fair with this which made our lives much easier. Prior to our wedding Joss was on the end of the phone if needed and always quick to respond to any questions we had and put our minds at ease. Everyone working on the day was brilliant, they helped to keep everyone calm and were in the background if needed. Thank goodness for Joss and her brilliant team!
Which other wedding suppliers would you recommend?
Other than those already mentioned we would also 100% recommend the following:
Photography – Indigo Perspective Photography
Hair – Beauty By Cathy
Flowers – Petal & Posie
Makeup – Botanical Beauty
Drinks – Mark Rogers and his team
Styling – Do Me A Favour