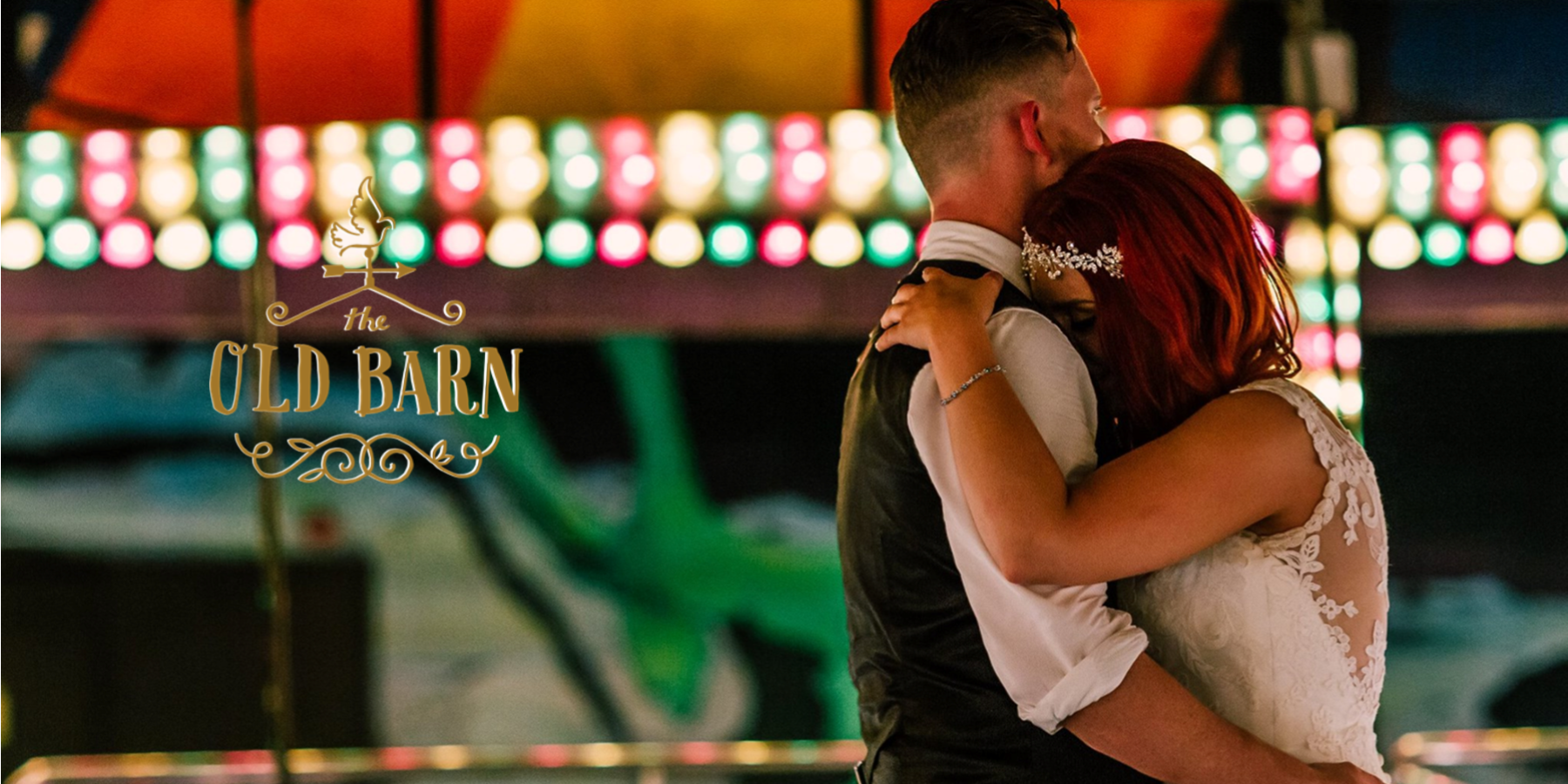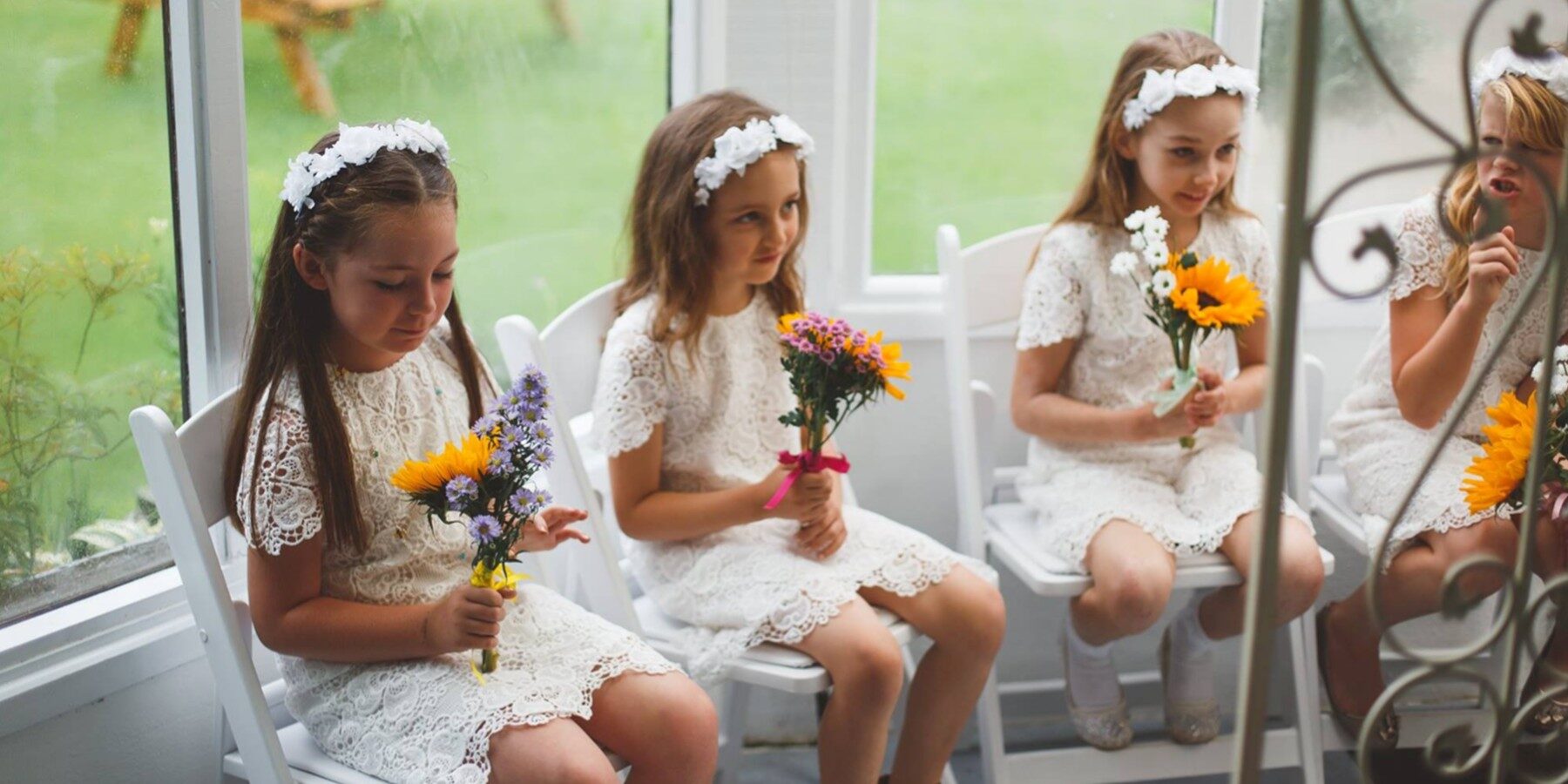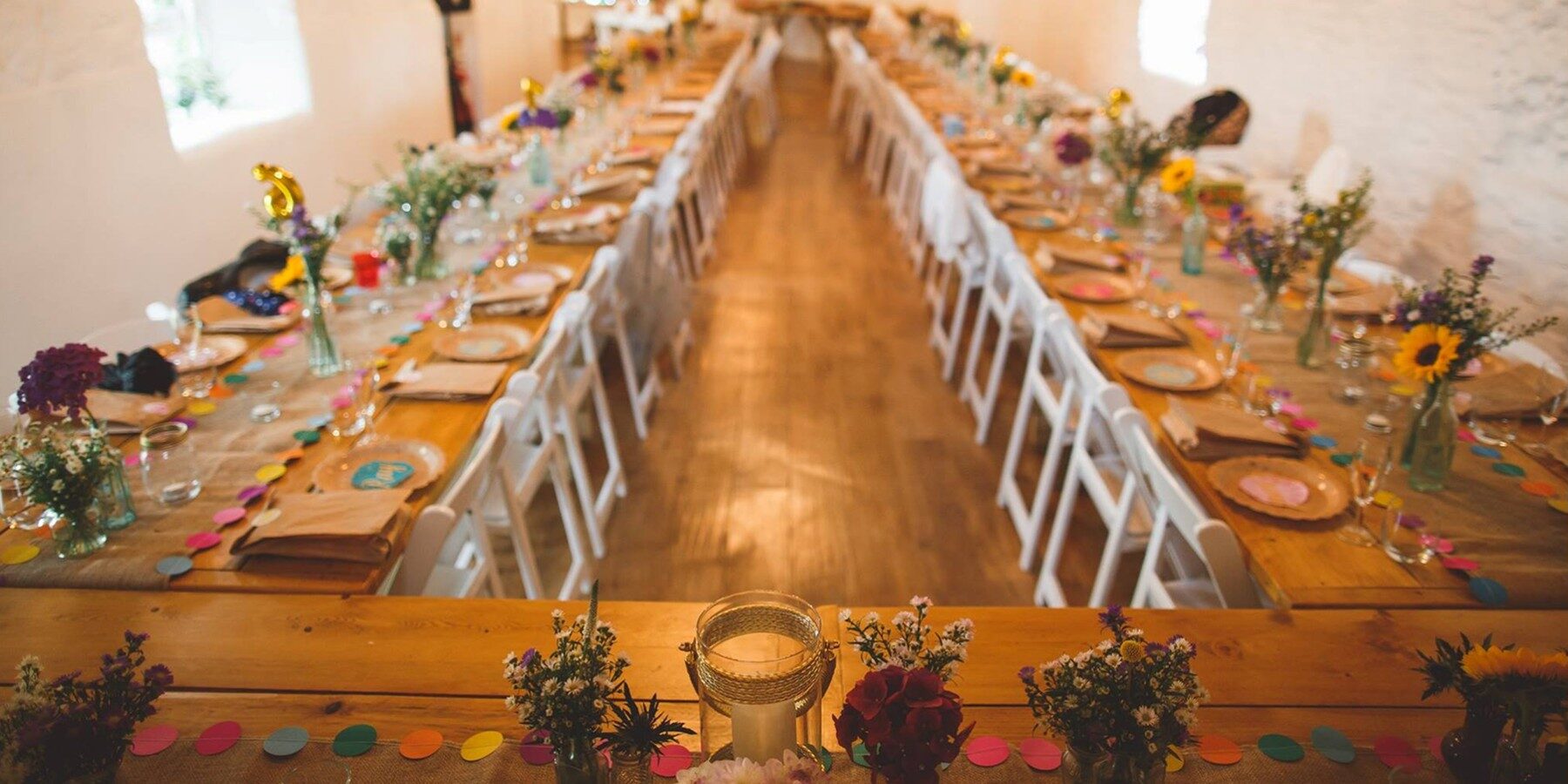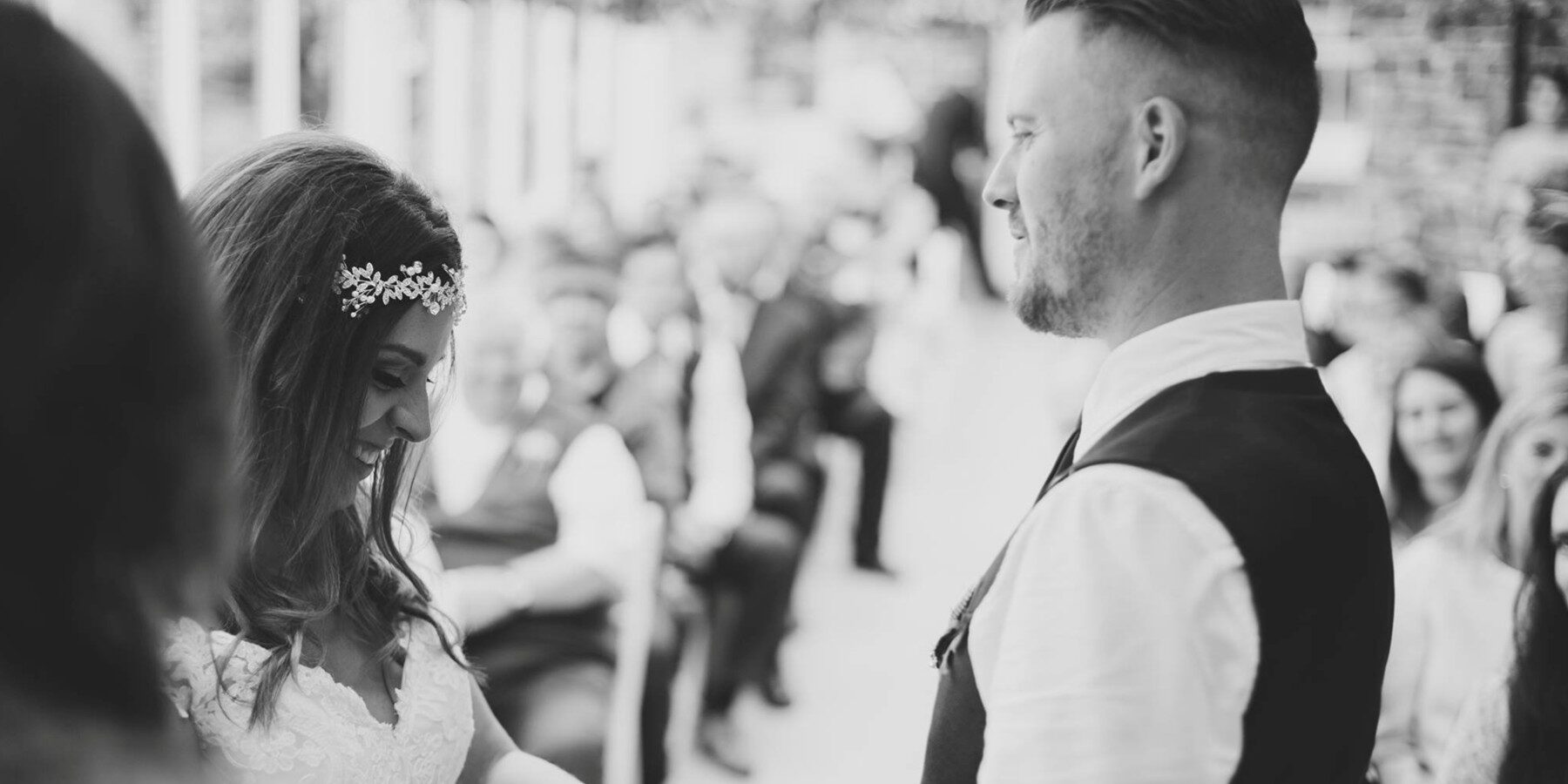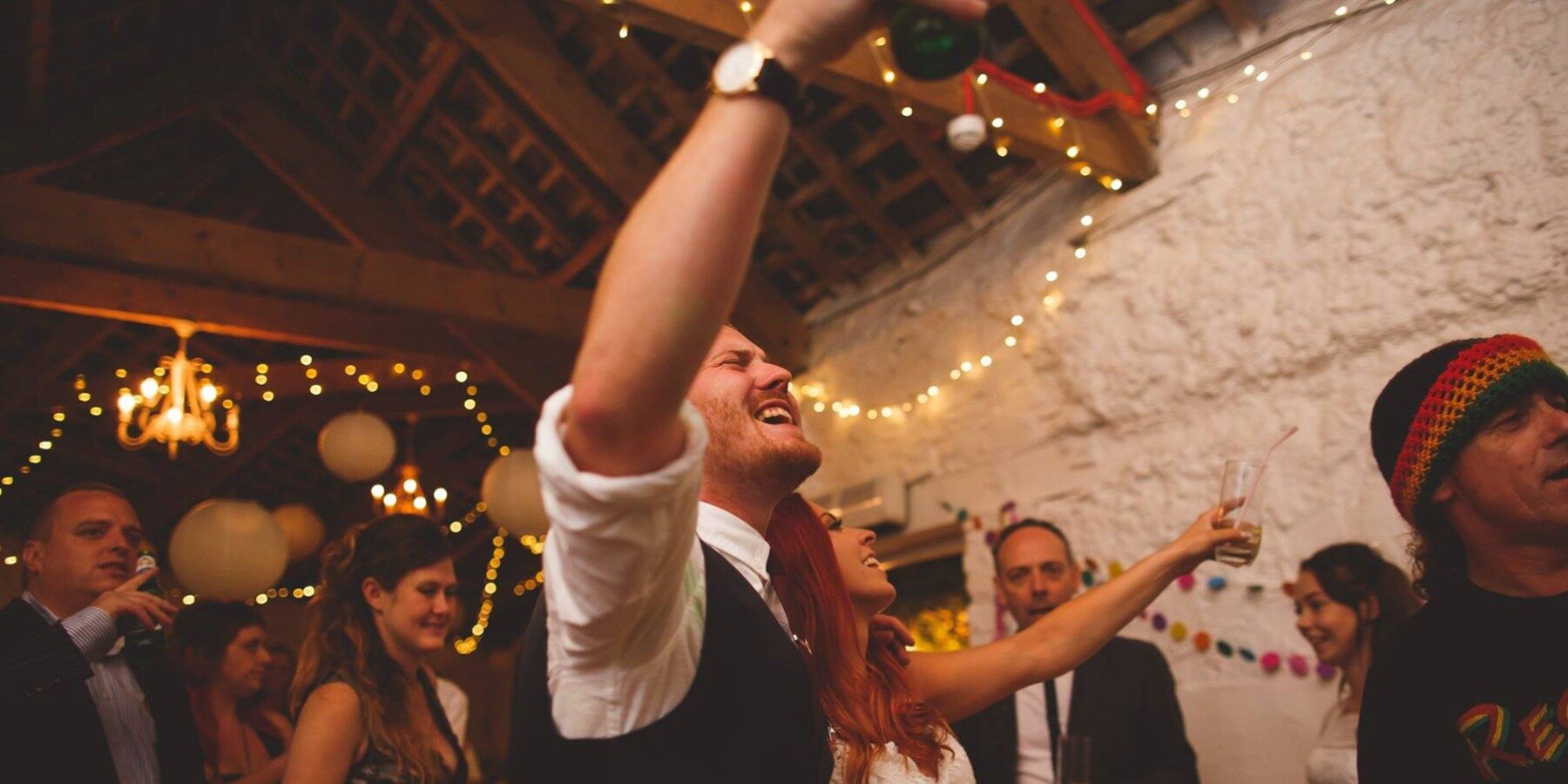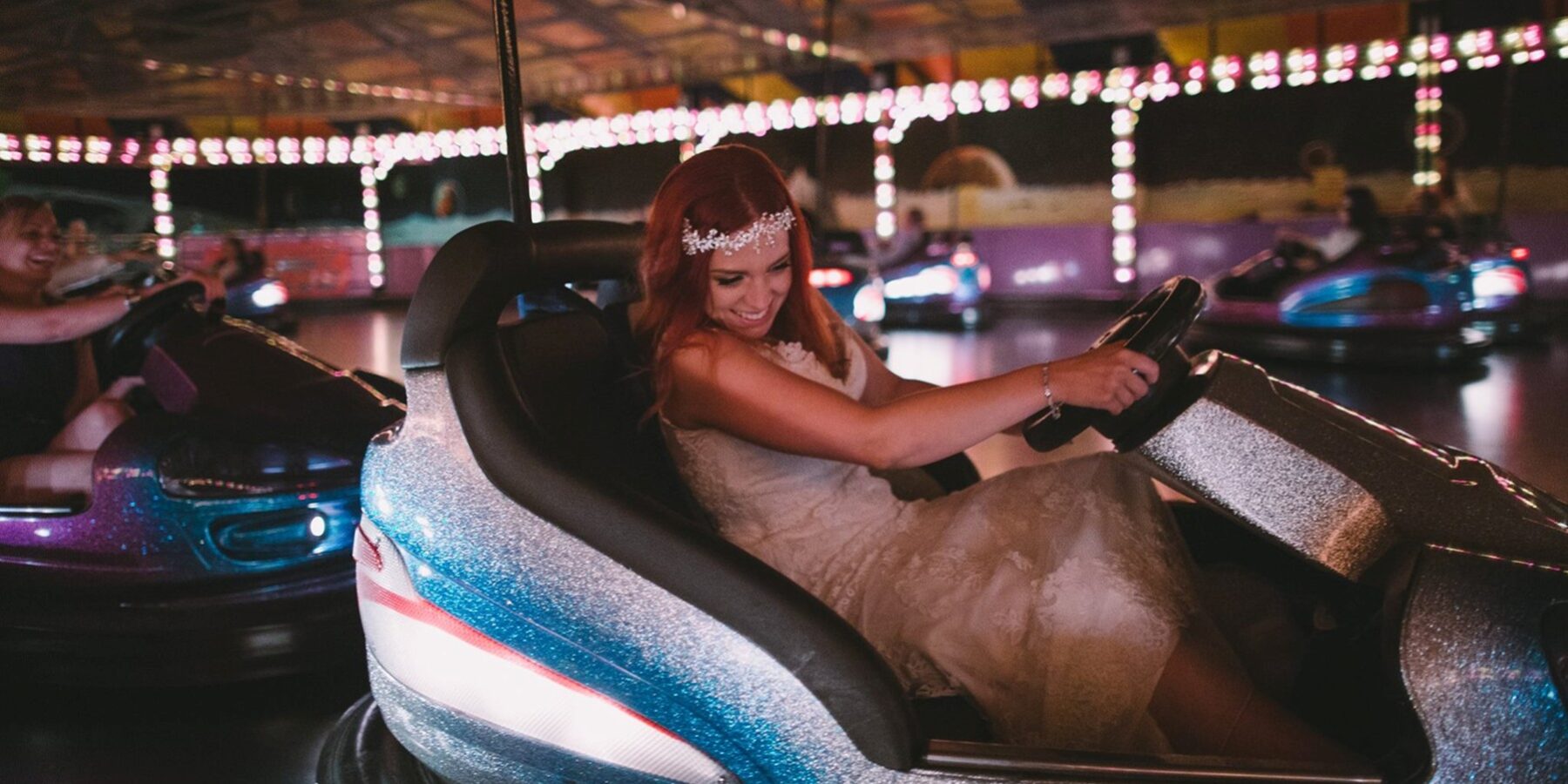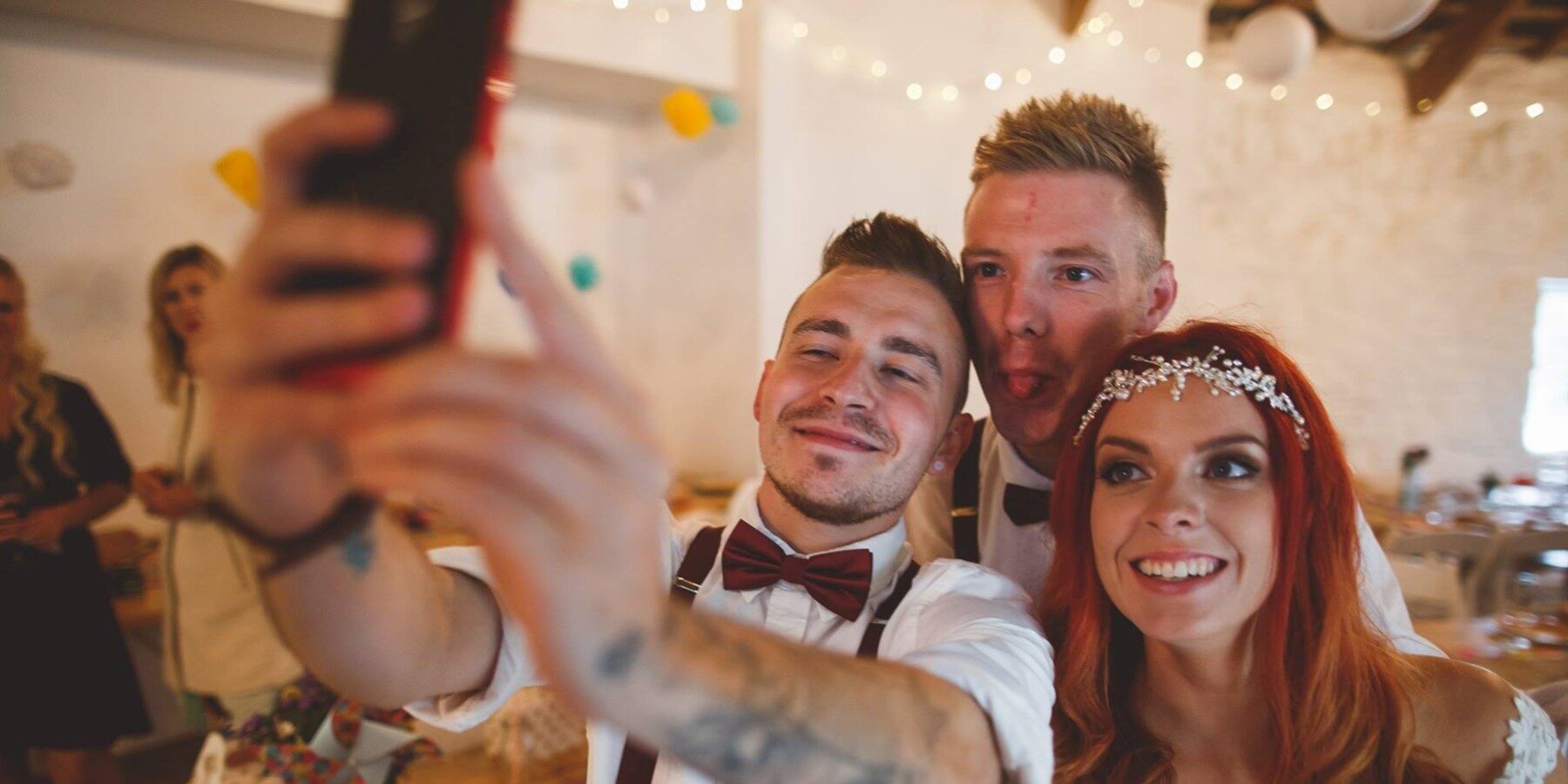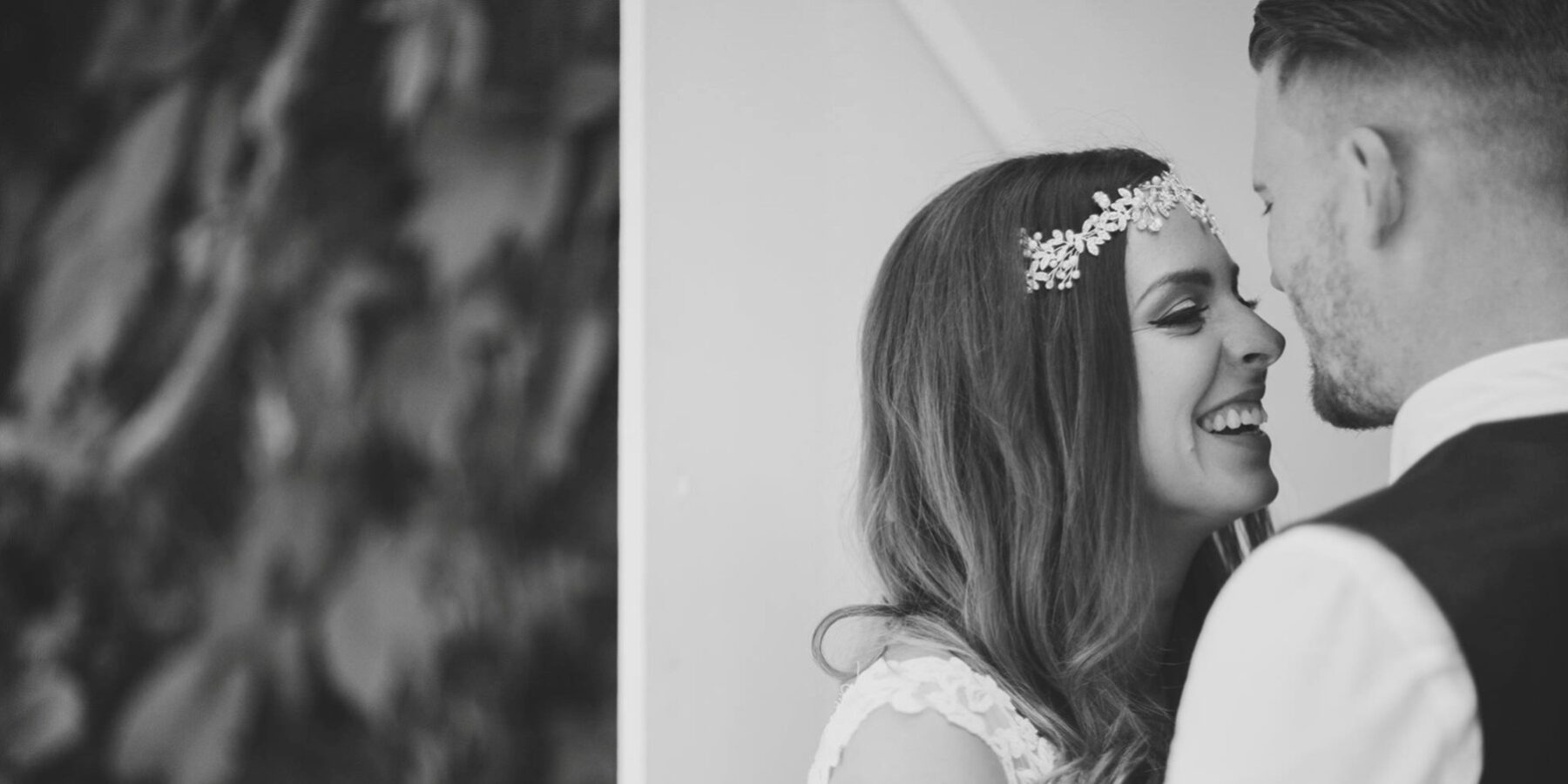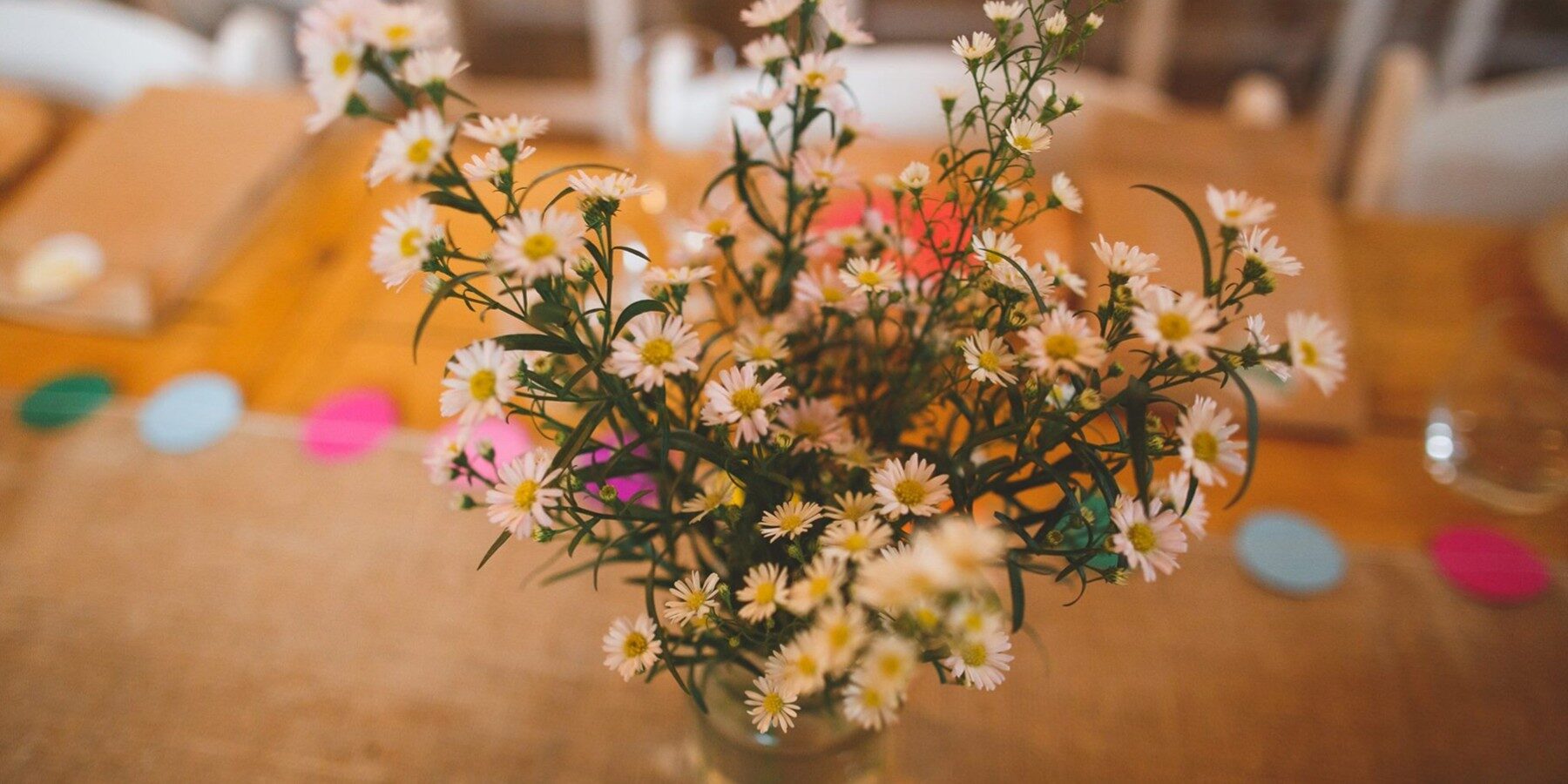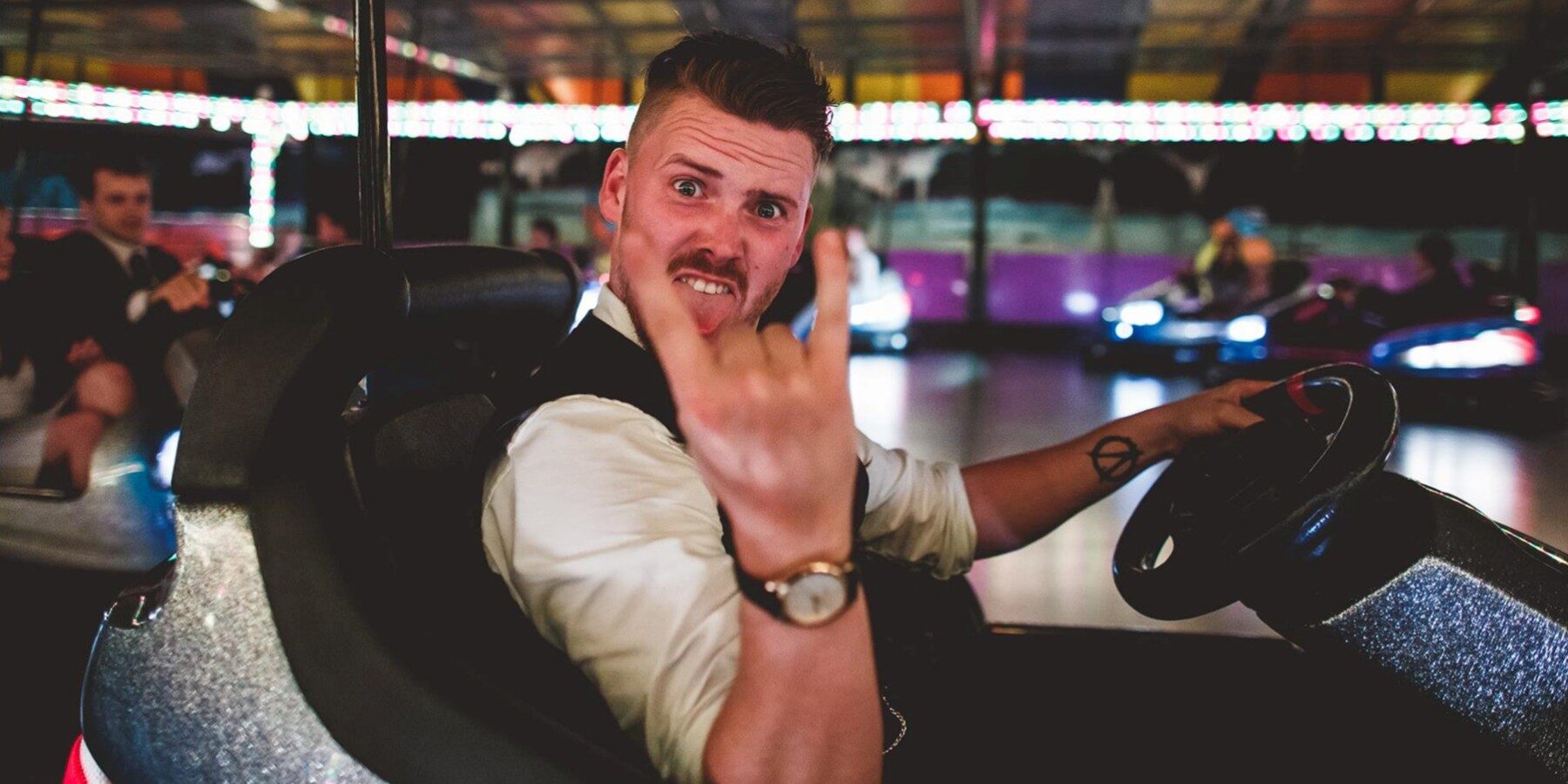 3rd September 2016
See lots more lovely photos of Hazel & Richard's day in our gallery here
Tell us a little about yourselves…
We are Richard (28) and Hazel (29), and we live in Bideford in North Devon. Richard's a painter/decorator, and I'm a wedding cake maker, working part-time from home, so I can also raise our two year old daughter Penny. We've been together for 9 years prior to getting married- we met in a pub in Appledore when we were 18 and spent the summer drinking and going to lots of parties together. I was initially impressed by his cheese toastie making skills, and I think he was impressed I could drink just as much whiskey as he could, if not more, without falling over!
What made you choose The Old Barn?
We visited the Barn without any intentions of actually booking anything! We came just to visit a wedding fayre being held there. Our immediate reaction when we went in was – wow! This is beautiful! I think because it was held next to the Milky Way we kind of expected a large play area! It couldn't be further from that. I loved how light the conservatory was, and how the vines make it feel like you are outside-inside. I was drawn to the idea that the whole space was already so beautiful it barely needed any extra decoration. We also loved that fact we could get married, eat, dance, sit outside and go on bumper cars, all at the same venue, with no travelling – that really sold it for us. I mentioned the bumper cars … the one thing we really wanted was for our day to feel relaxed and fun, and when we heard we could have use of bumper cars, bouncy pillows and even the rollercoaster for photo opportunities, that was the decision made! We booked a date the same day we visited.
Was it important that it was a 'DIY' venue?
Yes. This was also a major important point for me. I'm quite a crafty person and I really enjoy making things, and putting my own personality stamp on everything I do! The venue is beautiful, yet still works as an amazing blank canvas for you to add your own touches.
Did you have a large budget?
I'll be honest, we booked the venue in excitement, without even planning how we were going to pay for the rest of the day! We had no set budget from the start. It was a slow process buying up all the bits we needed, and we were incredibly lucky to have wonderful family members help us with some of the larger costs. We chose a DIY wedding venue because we both wanted to save some money by doing various things like decor/music/welcome drinks ourselves, and I do think we saved money by doing so … although it ended out balancing out because of other spends we made like my wedding dress and fresh flowers. We ended up spending around £10k I think, including venue costs.
What sort of theme was your day?
Our most important points when it came to choosing the feel for the day was – fun, colourful, welcoming, relaxed. We went for a loose festival theme, with pops of colour, fresh wild flowers, and some whimsical touches like giant paper flowers, pinwheels, and huge 40″ gold balloons! We made our own photobooth, and instead of favours we made adult party bags, with glowsticks, popping candy, tattoo pens, stick-on gems and beer mat faces in them, which made for great photo opportunities! We're both very laid back people, and told all our guests they were welcome to come as dressed up or down as they felt comfortable – it was most important to us that our guests didn't feel like they had to behave in any other way but exactly like themselves on the day!
What did you wear?
I usually hate being centre of attention, so I originally felt like I'd be happy in a very casual wedding dress. As it turned out, the dress of my dreams was a beautiful, white, off-the-shoulder fitted dress, with the biggest train on it (from Frilly Frocks – thankyou to Fiona)! Not at all the small unassuming dress I had in mind, but it was perfect. I wore it with a jewelled forehead piece handmade from Etsy, and no shoes – because anyone that knows me knows I never wear shoes unless I absolutely have to – even on my wedding day (and the underfloor heating in the barn made this a very easy choice)! To keep with our casual theme, we avoided full suits for the men. Richard wore dark blue chinos, and a matching waistcoat, with burgundy braces and tie, and a white cotton shirt. He also wore a vintage stag's head pin that was a family heirloom. His groomsmen just wore shirts, bow ties and braces in the matching colours and no jackets, hoping to stay happy and comfortable! My bridesmaids and flower girls all wore white laces dresses – a £10 primark bargain!
Tell us about the actual ceremony…
Instead of hiring someone from the registry office to marry us legally, we hired a lady called Debbie Merritt, who is a celebrant. She doesn't perform the legal side of the marriage (we got married 'officially' in the registry office a few days later) but she did provide us with the most beautiful, personal, non-religious ceremony, which was very important to us. We had a traditional hand-tying style ceremony, which was really unique and very meaningful for my history-loving husband. Debbie combined this with a script personalised to us, and a reading from Captain Corelli's Mandolin. We also had our best friend contribute to the ceremony with a reading about what love meant to different members of our family, which was brilliant. It was very bad weather on the day, but strangely the sound of the rain pattering on the conservatory roof really added something to the atmosphere, and because of all the beautiful vines it felt like we were getting married outside – but without the terrible weather!
What about your food and drink?
We had a very casual buffet-style wedding breakfast – platters of sliced meats, wedges of cheese, baskets of crackers, slices of quiche, bowls of olives. The Old Barn allowed us to buy our own alcohol for welcome drinks and for the speeches, so we set up a free bar, with beer, wine, and Pimms. The evening food was kindly supplied to us by Richard's uncle – a chip van which brought sausages, burgers and sweet potato fries to our hungry evening guests. Again we just wanted it to be a relaxed experience so we were going with just basic comfort food to keep everyone full and happy! I set up a cake table with various small cupcakes, slices of cake, brownie-type nibbles – and of course our wedding cake.
What about entertainment?
Luckily for us, Richard's stepdad is a DJ in his spare time, so we had all the professional equipment to hand to set up our own disco. To work out what songs we wanted, we asked all our guests to RSVP to our wedding with their favourite song choice, which worked brilliantly as we got a great variety of music to play! Later in the evening, we had some friends come and play in their band- Badly Worn Toy. Out of all the things on the day, I was most keen to budget for a live band. I think they actually serve as the best entertainment you can have for a wedding – everyone loves dancing to live music! I think I was right, because the thing that most guests mentioned to me after the wedding was how amazing the band was and how much they enjoyed listening to them. They played a really great mix – from reggae and rock classics to Eminem!
What did you love most about your day?
Of course, the best thing about the day was getting married to my best friend and celebrating it with everyone we love. But there were other great things too. I find it hard to pick one part – the venue really made the day in its set-up. The weather was absolutely awful, and it hammered with rain all day – so the fact everything was in one place without having to leave the venue was a lifesaver! I dont think anyone even missed being outside because the conservatory was so light and airy, and we had so much to keep us happy and entertained inside. I was initially sad about missing out on photographs outside (we planned to go to Clovelly) but we got some really stunning photos against the backdrop of the vine walls inside that really made up for it. And the bumper cars! We all absolutely loved the bumper cars, they were the best entertainment, for everyone! Even my grandparents went on them! Not to mention the amazing photographs we managed to get on them, another really unique part of the day. Other favourite parts for me were the two things about the day that remained a surprise for me- as it was a wholly DIY wedding we did practically everything ourselves – except the flowers and the photographs, which I decided to leave to the professionals! That meant I had two things I could look forward to, having no idea what they might turn out like – and I was not disappointed! Petal and Posie provided our wedding bouquets and all the table flowers which filled 80 vases. She did an incredible job, putting so much love and effort into listening to exactly what I wanted and even adding unexpected extras on the day. Our photos were taken by Zac Gibson, and his assistant Molly, who were so relaxed and really put me at ease when I was feeling super awkward about being photographed. They actually just felt like friends we had known and invited to enjoy the day! The photographs were even better then I hoped and I still glance at them all the time and can't believe we had such an amazing and beautiful day.
Are you glad you had the day you did?
Yes! There is not a single thing I would change about the day we had – not even the terrible terrible weather, which I'm sure was the worst rainfall we had had all summer!
Did you feel well taken care of by the Old Barn team?
The staff were absolutely amazing, they went above and beyond to help and accomodate us and any potential hiccups we had. When we were due the bad weather, a gazebo was bought and put up for us. We had giant balloons that spelt 'LOVE" decorating the dancefloor area, but on the morning of the wedding, we came in to find the 'E' had popped! Without saying a word Martin had gone off to ring around to see if he could source us a new one at short notice! In the end I actually thought it was quite amusing that it looked like we had spelt it wrong so we left it as it was but it was very kind. Joss was very attentive and checked up on us regularly to see if we needed anything, and always answered my questions promptly (and there was lots of them over the months!). In the run up and on the day, we really didn't want for anything. One staff member even kindly gave Richard and I a lift back to our cottage after the night had finished to save us spending taxi money. They really have managed to find the perfect balance of professionalism but also friendly, helpful and welcoming. We cannot thank the team enough for helping us have such a memorable day in such a unique and beautiful venue.
Other suppliers not mentioned above…