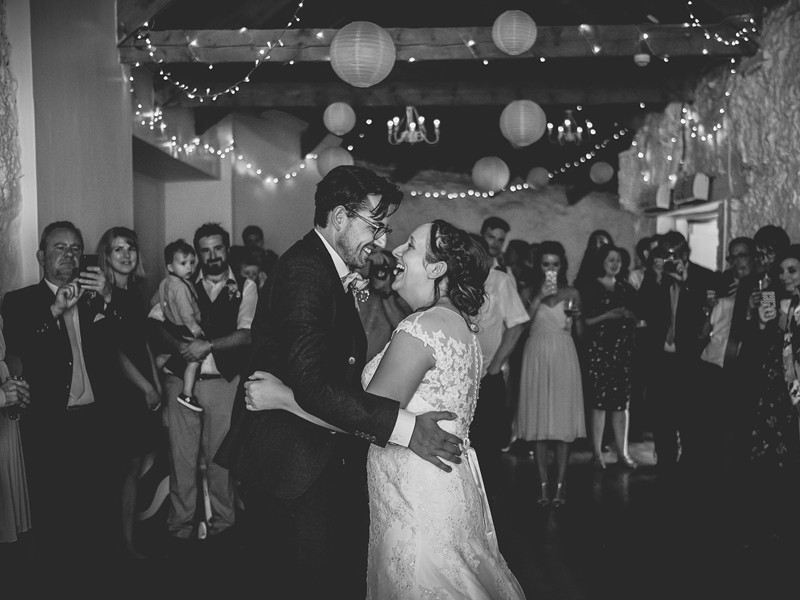 See lots more lovely photos of Louise & Jamie's day in our gallery here.
Tell us a little about yourselves…
Jamie Abbott & Louise Rockell (now Abbott!!), 32 and 31 respectively. Jamie is a Secondary school teacher (History, Politics and PE) and I work in research. We met in West London on a blind date and now live in Rugby, Warwickshire.
What was it about The Old Barn that made you choose it?
Firstly, I wanted to get married in Devon as it's where I grew up so, that narrowed down our search. Then, when we found The Old Barn, it had everything we wanted so we didn't need to look any further!
Not only was it a DIY venue with that beautiful, characterful vintage feel but it was the MILKY WAY! Having grown up in the area, and with my Grandpa driving the train in his eighties, it still holds a very special (an now even more so) place in my heart.
Oh, and Jamie wanted it because of the dodgems …
Was it important to you that it was a 'DIY' venue?
We were looking for a DIY venue only really. We wanted to have the flexibility to chose and spend more or less on each aspect of the day. Good quality food is important to both of us, so being able to bring in our chosen caterers was perfect!
Did you have a large budget?
We had a below average budget I would say (although the average is mental!). We bought a house, had a baby and got married within 12, months so it was important that we didn't spend a crazy amount on the day.
What sort of theme was your day?
We didn't have a theme, but our aim was for the guests  and us to have fun. We wanted a really casual, easy day. With all the flexibility, amazing staff and the dodgems, we definitely got that!
What did you wear?
Even though it was August, Jamie wanted to wear tweed, so he had the full 3 piece suit with pink bow tie and shoes. Our son Wilf and nephew Quinn had matching bow ties – cute! I went a little over the top in a fit and flare lace dress with a huge train! It was an ex-sample dress, so I got a lot of very expensive dress for very little.
Tell us about the actual ceremony …
We always thought the ceremony was just a formality really, but actually when you're up there together in front of everyone you love, it was a really special moment. The conservatory was brilliant for it too, as it has a natural slope so everyone can see! And with all the beautiful greenery we hardly had to decorate it at all.
What about your food and drink?
We had gourmet burgers and hot dogs from Posh Nosh, cooked and served outside in the garden, which was perfect and fitted brilliantly with our more informal day. Pudding was ice cream, cake pops and jelly shots, all served outside too. We were very lucky with the weather being so perfect.
What about entertainment?
We bought our own amp along and just created a Spotify playlist on our iPad. It worked perfectly and was absolutely free!
What was the best part of the day for you?
I loved the speeches, they were so special and a really lovely moment. Jamie loved the dodgems – well everyone loved the dodgems, they were so much fun!! We thought an hour and a half would be too long but I think people would have stayed on all night if we'd let them!
Brilliant, amazing, best wedding ever… just some of the dodgem related comments we had from our guests …
Are you glad you had the day you did?
Yes! It was exactly what we wanted from start to finish. The venue looked beautiful, the staff were amazing and the weather was perfect! I don't think if we had chosen anywhere else it was have been anywhere near as perfect as it was.
Did you feel well taken care of by the Old Barn team?
They're such a great team, they were so helpful and I felt so looked after all day, there were none of those crazy last minute panics you hear of!