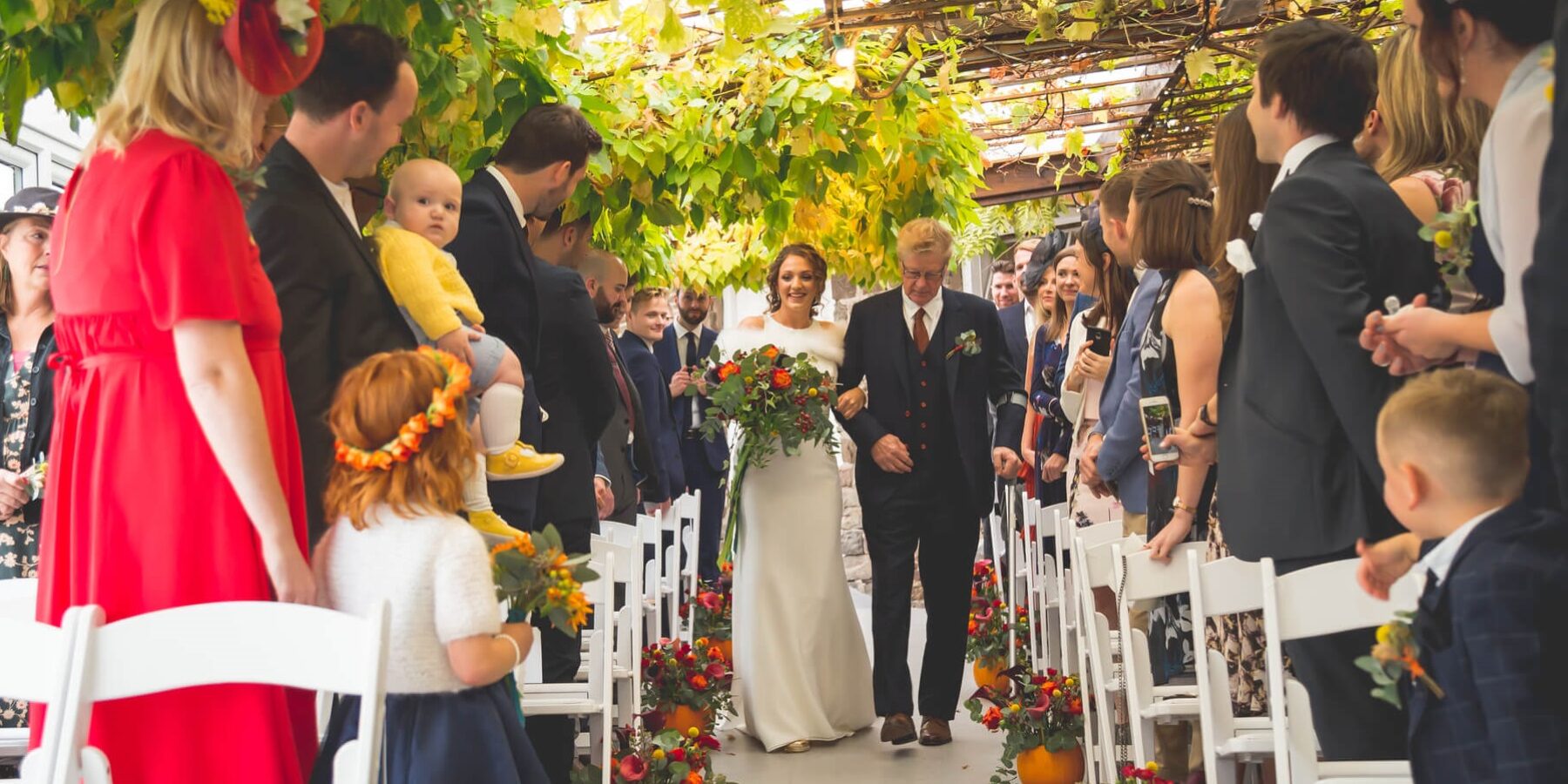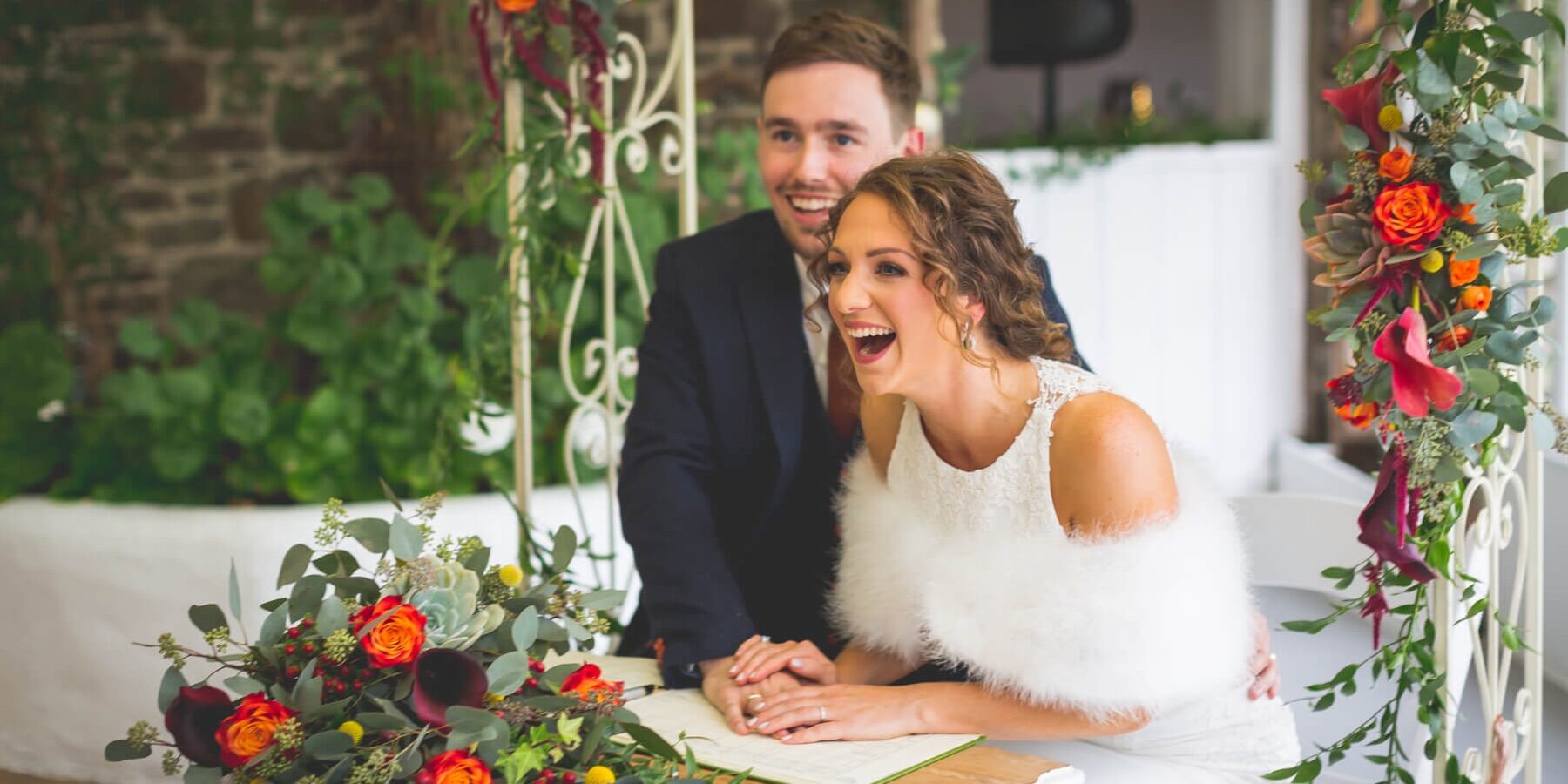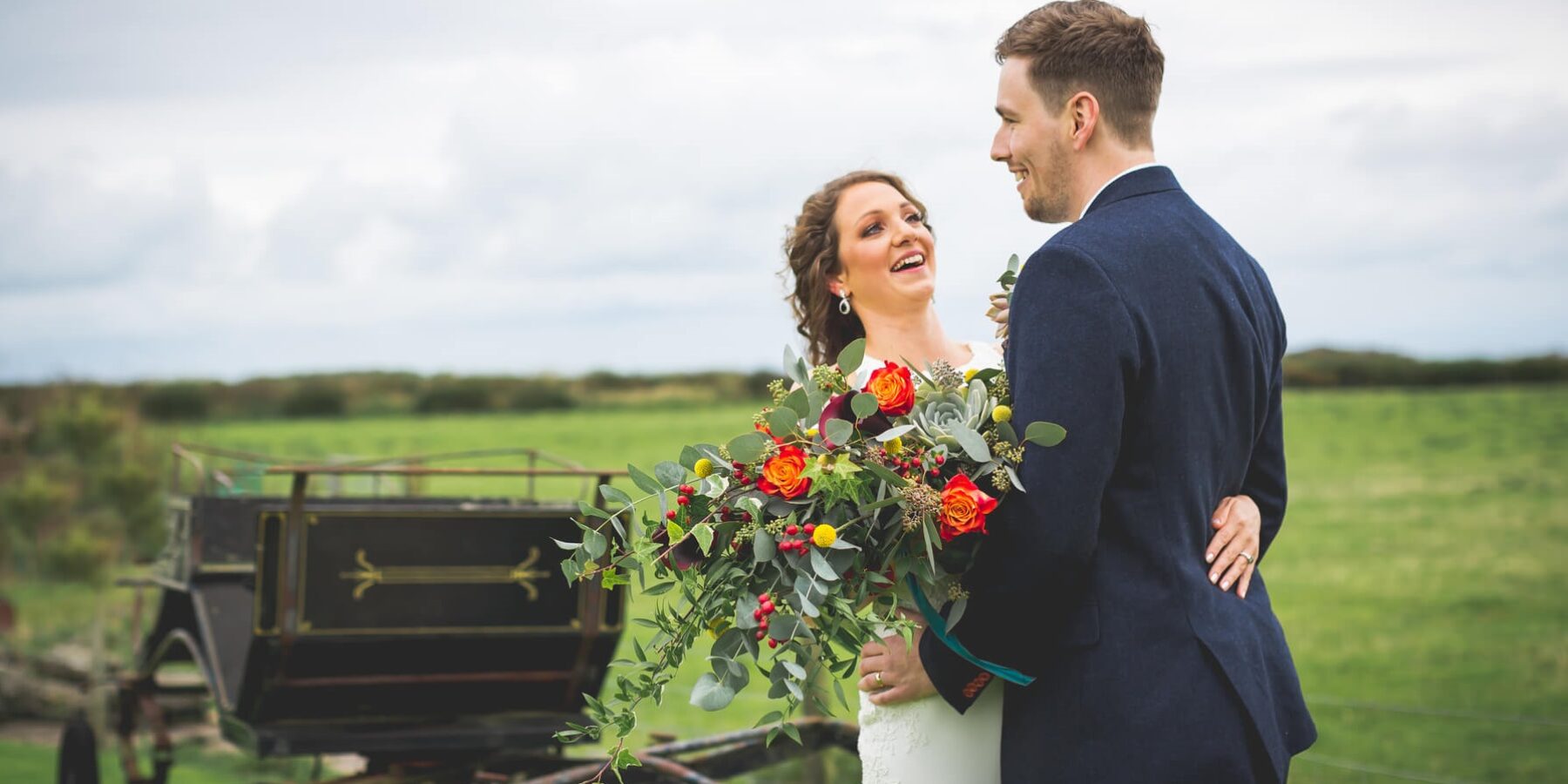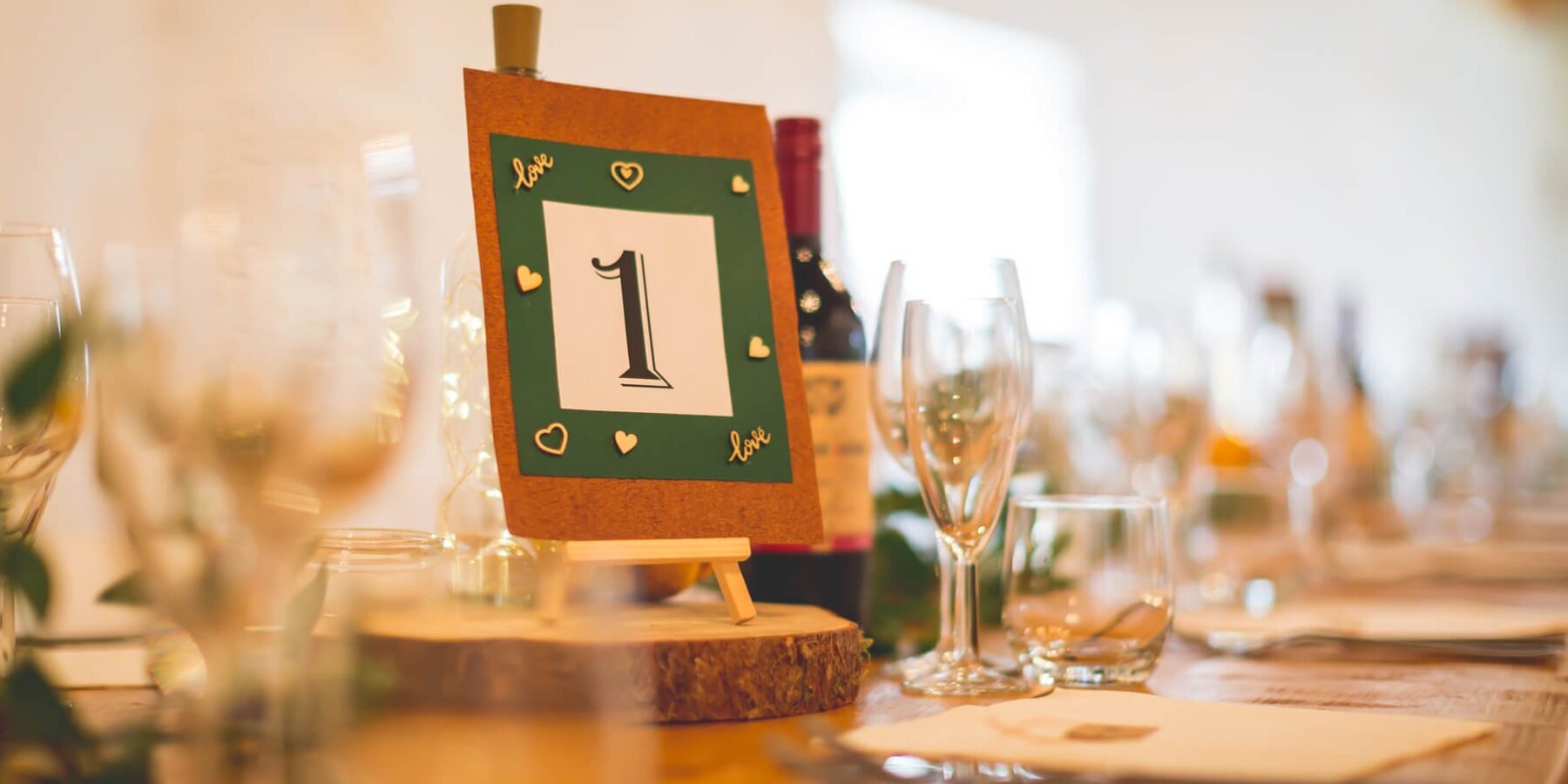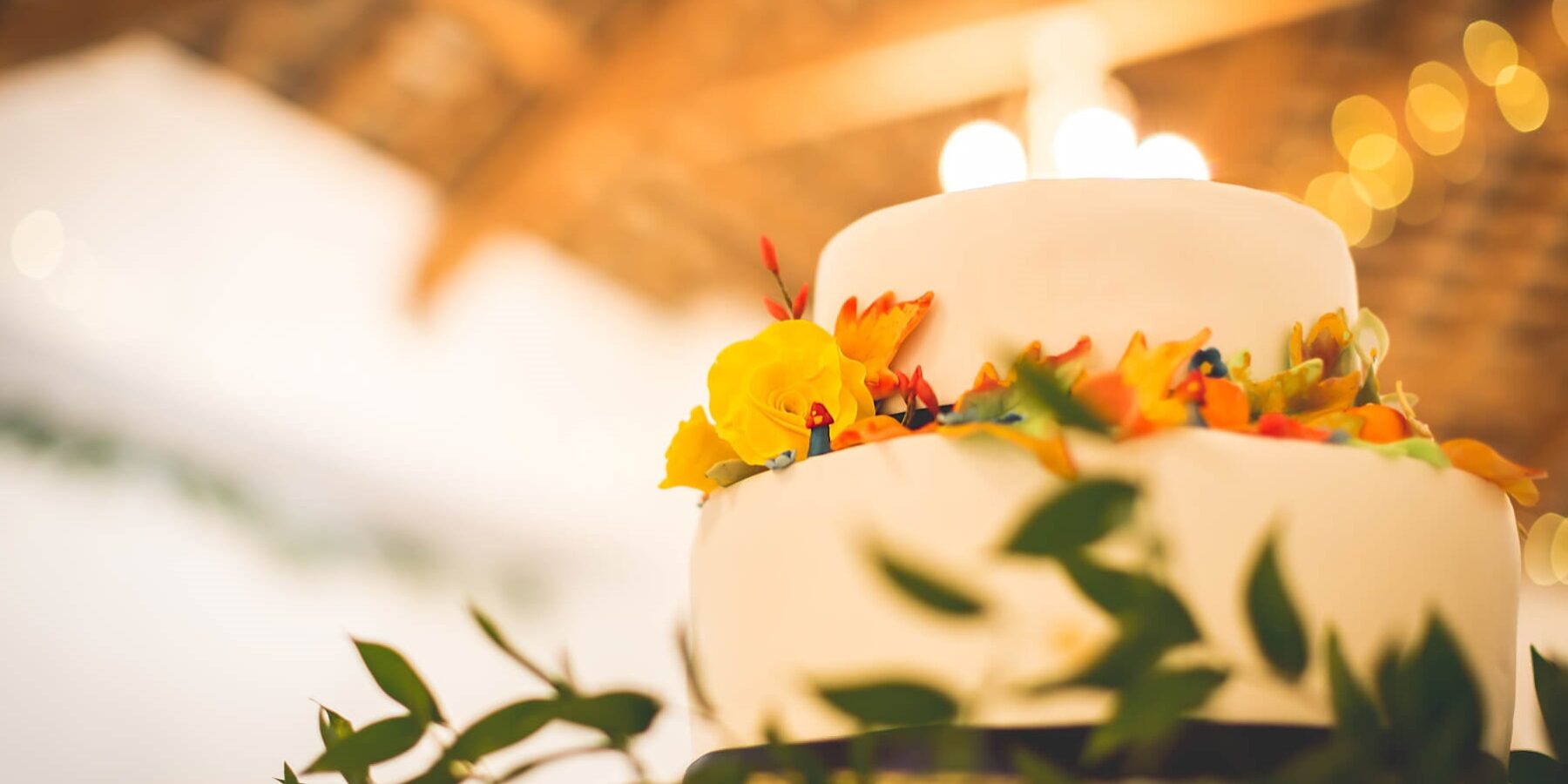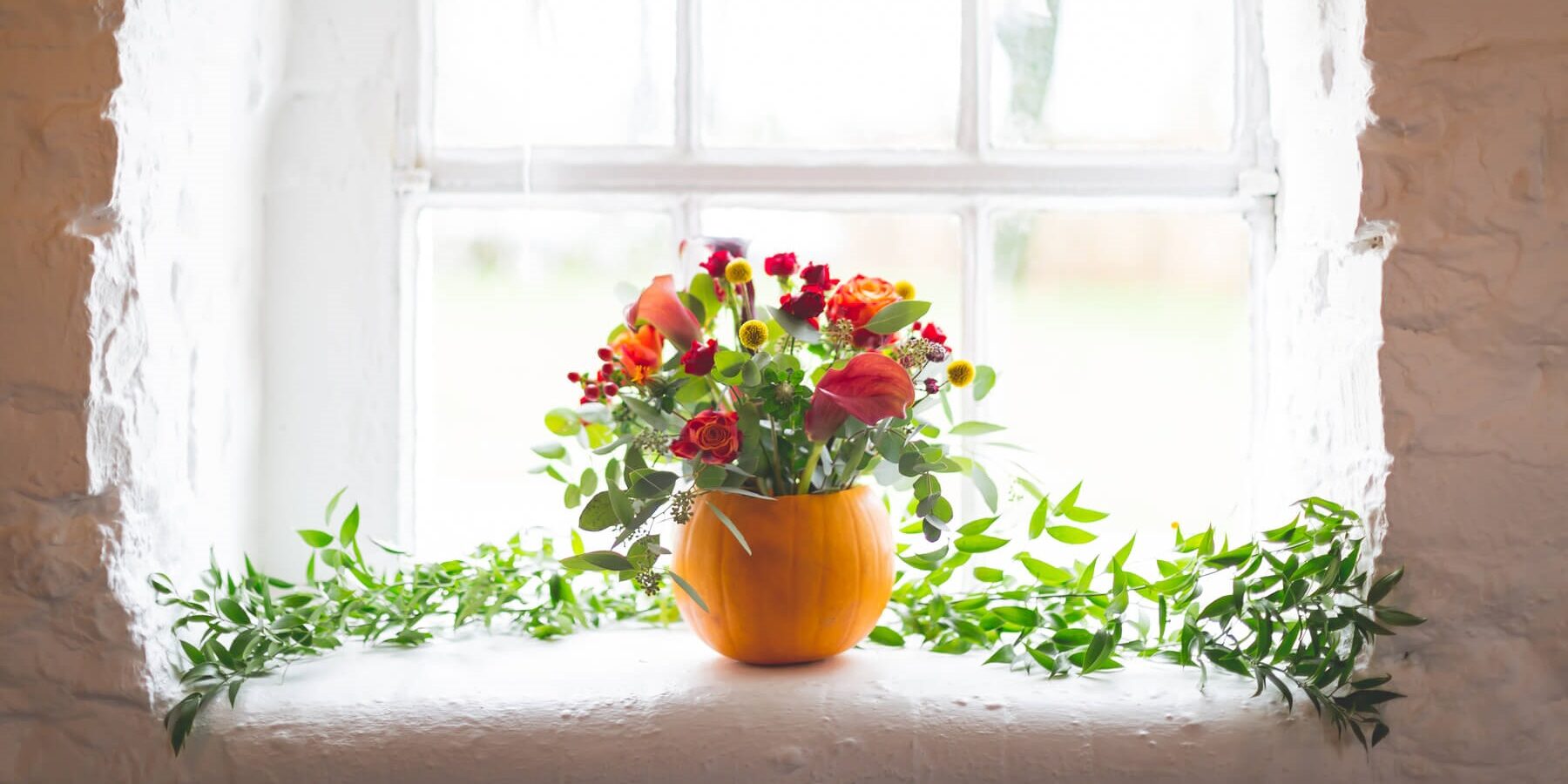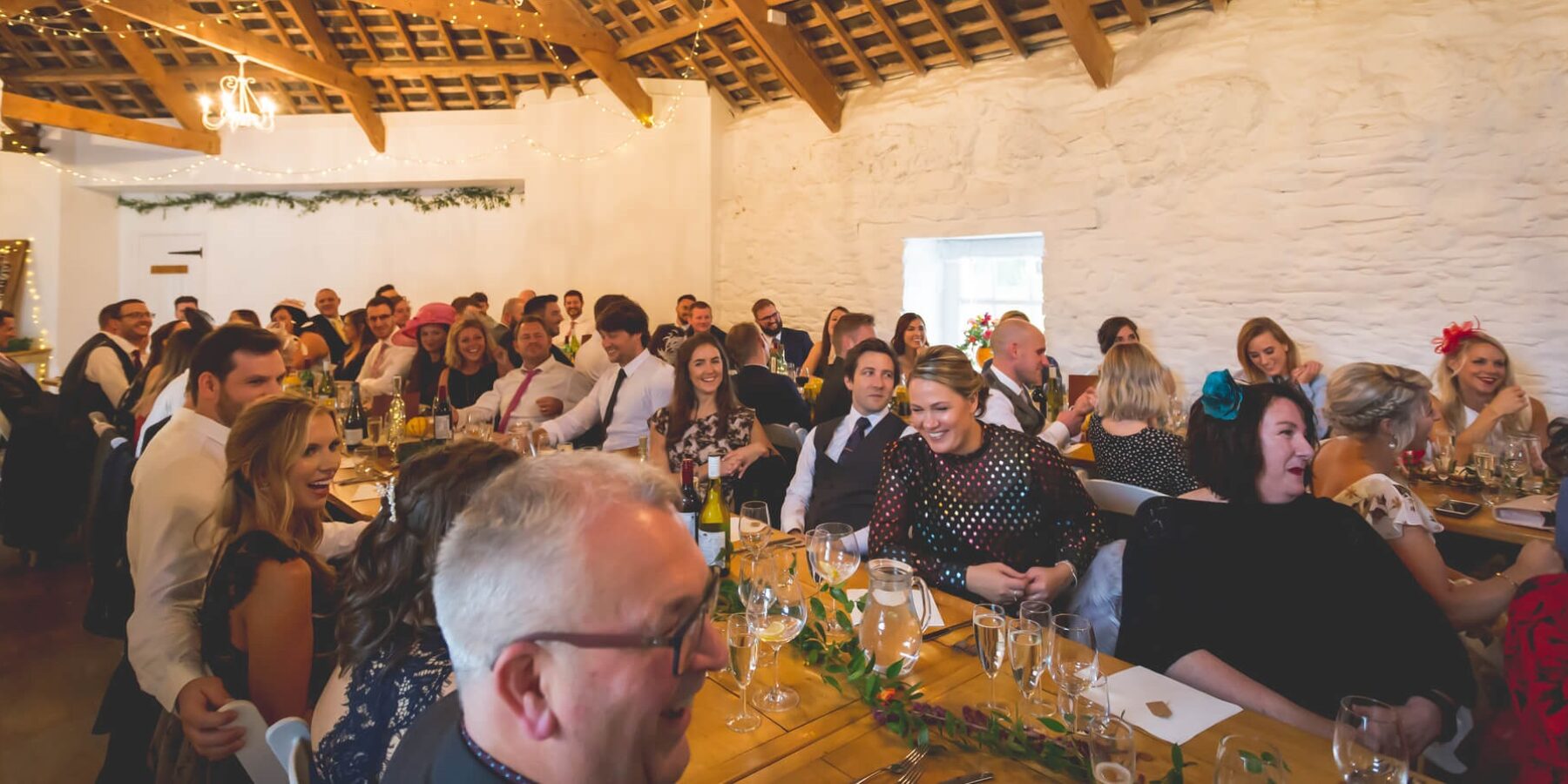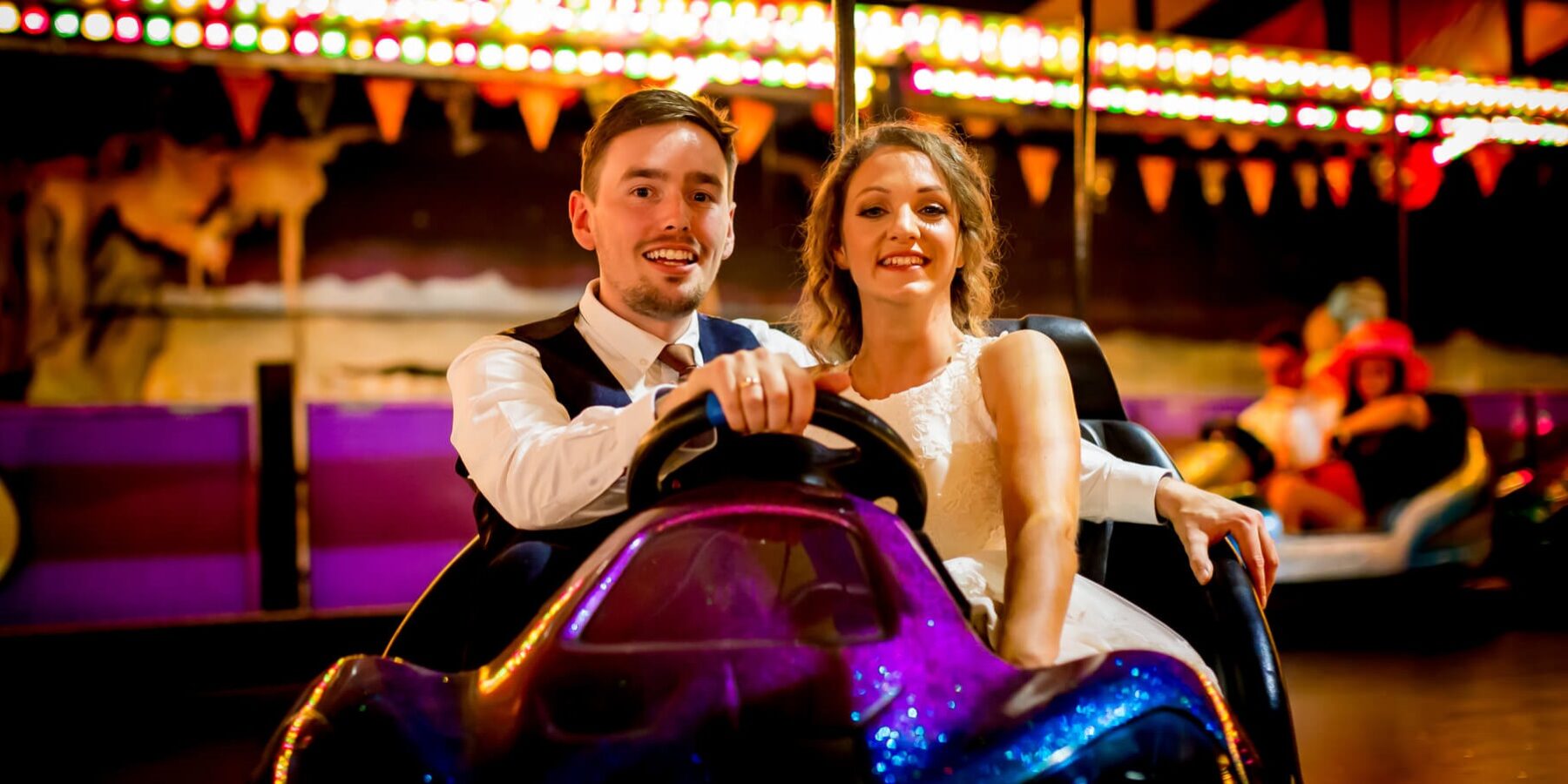 October 2019
You can see lots more lovely photos of Kaylee & Charlie's wedding in our gallery here.
Structural engineer Charlie, 27, and dietitian Kaylee, 32, live in Bristol. They got engaged on top of a French mountain and then chose Kaylee's childhood home of North Devon as the beautiful location for their wedding. We spoke to Kaylee about their big day.
Why did you choose The Old Barn?
The Old Barn was the first wedding venue we went to view. I grew up in North Devon and knew I wanted to be married at home, so location was important to me. Secondly, I knew I wanted to be in one place the whole day and not have to transport people across the county from church to reception. The Old Barn was perfect from the point of view that everything you needed was there. Finally, we liked the vibe in the Barn – the DIY element worked for us. I'm not very good at making things pretty but I didn't have to worry about that – the Barn is already pretty! It took the stress away. What I could see (immediately) is how well the venue would suit us as a couple. I knew it was perfect. The search for a venue stopped immediately!
Was it important to you that it was a 'DIY' venue?
It wasn't essential but it did mean we had full control over what we wanted to do with decorations (which was very little). I already had a team of people I knew could help set up the venue and help. It was brilliant to have the venue the day before. The setting up was so exciting and it was nice to give everyone else an idea on how the day would work. I had it all in my head so it was nice to see the ideas and the colours come to fruition for all to see.
The DIY venue also allowed us to keep costs down. We could decide on catering, flowers and decorations without being influenced by cost and someone else's decisions.
Of course – then there is the dodgems. That won Charlie over immediately!
Did you have a large budget?
No. We bought a house 3 months earlier and so money was tight! I had a small wedding savings pot and my mum very kindly paid for my wedding dress. After everything was paid, we came in just shy of £10,000, which was our maximum budget.
What was your theme?
Autumnal, with lots of colour – yellow, reds, oranges and green. I knew The Barn would look great with those colours whichwere perfect for the October wedding we had. We're both quite relaxed and really wanted our guests to have the most amazing day too, so keeping it fuss free and simple were important, but we also wanted it to be warm and inviting. The colours and décor really did all of those things.
What did you wear?
Charlie, his dad, best man, usher and my dad wore suits which he ordered online from Empire Outlet a few weeks before (talk about stressful!) but they were perfect. I have to admit – they were brilliant and matched the theme perfectly. Smart but not overly formal.
I wore a dress from Champagne and Charlotte, a local boutique in Bideford, North Devon. Charlotte came recommended by one of my bridesmaids who had also bought her wedding dress from Charlotte a year earlier. My dress was from the Blue by Enzoni collection and I loved it from day 1. We then styled it up with some fluff. I fell in love with the simplicity and the back of the dress. It suited the venue and was flexible enough to fit in the dodgems! Charlotte you are a superstar!
Tell us about the ceremony …
The ceremony took place below the grape vines in the light-filled conservatory part of the Old Barn. We had 80 guests (4 kids under 5 and one new-born all of 3 weeks old). Our day started at 2pm and the ceremony latest about 30 minutes. We saved money by having my older brother collect me in dad's car and drop me to the venue. The groom, best man an usher drove themselves. We certainly had a relaxed vibe going on, especially when I made an error during the vows and everyone laughed (including the registrar). After, we walked back up the aisle (towards the bar) where Joss and her fabulous team gave us a much needed glass of bubbles and 30 seconds to pause and absorb what had just happened.
Joss had been marvellous throughout the wedding build up and nothing was too much trouble. One moment stands out when we were rehearsing the aisle walk the day before, she stepped in for my dad (who'd fractured his pelvis 7 weeks before and needed a rest to prepare for the real deal) and we worked out the exact lyrics when each of the bridal party had to start walking. I still can't listen to The Waterboys – 'The Whole of the Moon' – without a huge smile when it gets to the word "comet". Deep breath and walk!
Music in: Waterboys, 'The Whole of the Moon'
Music out: The Kinks, 'Waterloo Sunset'
Ceremony decoration: Denise Cole (Petal and Posie) did our flowers and people still talk about them even now. Denise is not only an exceptionally talented florist, she and her family are dear friends and she kindly agreed to help with the flowers on our special day – and we're so pleased she did. My bouquet was sensational, with lot of vibrant colours (reds/orange roses/yellow) but also a cascade of green around a central succulent, which now sits in full bloom in our kitchen. The bouquet flowers live on, as do the button holes!
The venue was decorated with hollowed out pumpkins filled with flowers, and a stunning hoop feature on the back wall behind the top table and an archway during the ceremony. You know when someone understands what you are conveying when they deliver the goods on the day. Denise you are a true talent and total gem – thank you!
Food and Drink: Again, because we didn't want a formal 3 course dinner, we wanted to keep things simple and wholesome. I'm a huge fan of a pie and managed to convince Charlie that we should just have pie and mash! So we did. H&A Catering came recommended on the Old Barn website and so I opted to speak to Helen about what they could do for us. We never got to sample the food we'd ordered and although it added a hint of anxiety to the day, I wish I'd never spent a second worrying about it. From the canapes to the buffet in the evening, every single mouthful was excellent and so many people came to tell us how delicious the food was and how much they'd enjoyed the pies. We opted for lots of canapes (6 in total) in place of a starter, followed by pie and mash and a trio of desserts.
The evening guests then arrived from 6pm onwards and a buffet was served (alongside the desserts which remained) and the cake. Being mindful not to waste food, we ordered a smaller buffet and it was spot on. No food was wasted. Helen and Aimee were perfect. They've been to The Old Barn many times and were totally professional. I cannot thank them enough for filling our tummies with wholesome delicious food from start to finish. We would totally recommend you to anyone.
Welcome drinks were fizz and ciders, fizz for toasts and both red and white wine on the table. We didn't have much wine left over by the end either!
The band: We wanted a band. Charlie and I (plus my family) are regular festival goers and music is such a huge part of our lives. The band were chosen on a recommendation from a colleague. We'd only heard their demo and had email correspondence with them. The Stereo Jacks were a bit of a gamble but it paid off. One guest requested the Foo Fighters – times like these (one of our all-time favourites) which the guitarist kindly played acoustic at the end of the night. The Stereo-jacks had never played at the venue before, and had travelled from Weston-Super-Mare to play on our big day. They were worth every penny! The dance floor was full all night. And I mean – packed full!!
What was the best part of the day for you?
Besides marrying Charlie (obviously) and having everyone you love in the same room as you – I have to say the Dodgems. Charlie and I had spent the weekend before choosing songs for our playlist, to have blasted out whilst driving about in the chaos which is the dodgems. Watching the inner child emerge from each of our adult guests was simply magical. An hour and a half of non-stop smiling until your face hurts (well and your neck). The kids loved it too. It was the perfect time to have everyone get up and go, post dinner, pre band. It was also great to see people mingling, at one point my mum was in a dodgem with one of Charlie's work colleagues! A real ice-breaker.
The dodgems made our wedding. It's an absolute must. Our guests LOVED it! Whenever I vacuum our house, I put the dodgems play list on and go for it.
Are you glad you had the day you did?
We wouldn't have changed a thing. It really was the best day ever.
Did you feel taken care of by The Old Barn team?
From start to finish Joss and the team were fantastic – nothing was too much trouble. Such as, requesting another visit with our photographer, who'd never shot a wedding at the venue. Also helping the day before with the logistics (which entrance does the bride use on arrival? for example). I felt no need to be worried about anything other than falling over down the aisle! Joss and the gang had it all covered and are experts in what they do. They made everything about getting married a lot easier. I really hope we get to come back at attend a wedding at the venue just to see them all again!
For any couples considering the Old Barn – it will be the best decision you make. We know your wedding day is meant to be the best day ever and it truly was. The venue is a game-changer!
Recommended suppliers:
Bridal Hair: Kelly Folland Hairdressing (based in Landkey). She certainly knows how to work curly hair. I had all my faith in her and she was wonderful
Flowers: Petal and Posie – and exceptionally talented florist
Bridal Make-up: Isabelle Grace make-up Rachel can do no wrong and is so calm and chilled – just what you need on your wedding morning.
Wedding dress: Champagne and Charlotte Bideford, Devon
Photographer: Maria Broome Photography (she's a family friend too, and a total perfectionist). She captured memories to last a lifetime and we're so pleased with the work she produced. What a professional!
Entertainment: Gary Jones Magician Gary came recommended and was fabulous at entertaining guests young and old during welcome drinks and at dinner. He's a member of the inner magic circle and kind of a big deal!
Music: The Stereo Jacks Outstanding!
Catering: H&A Catering Simply brilliant!