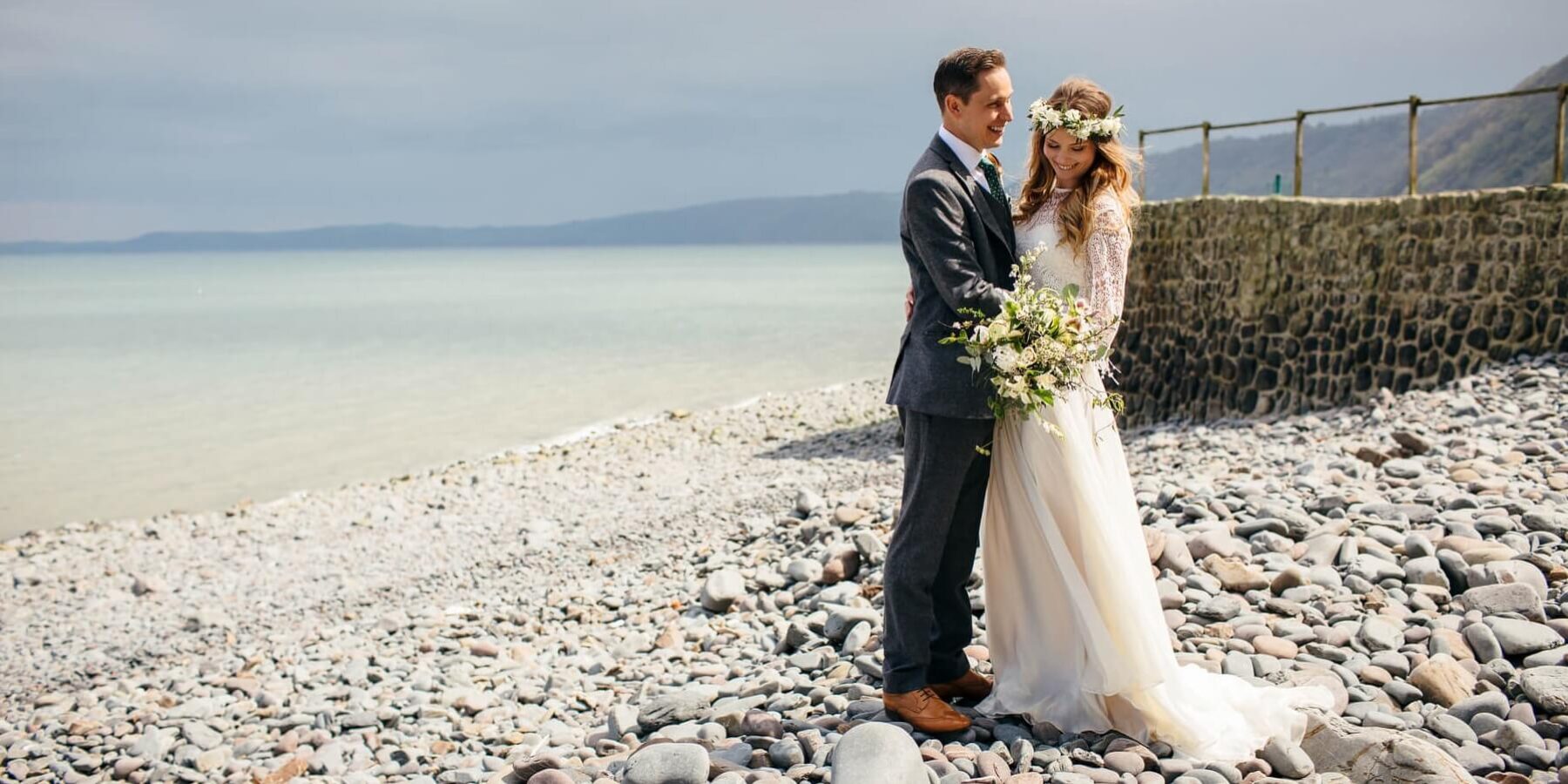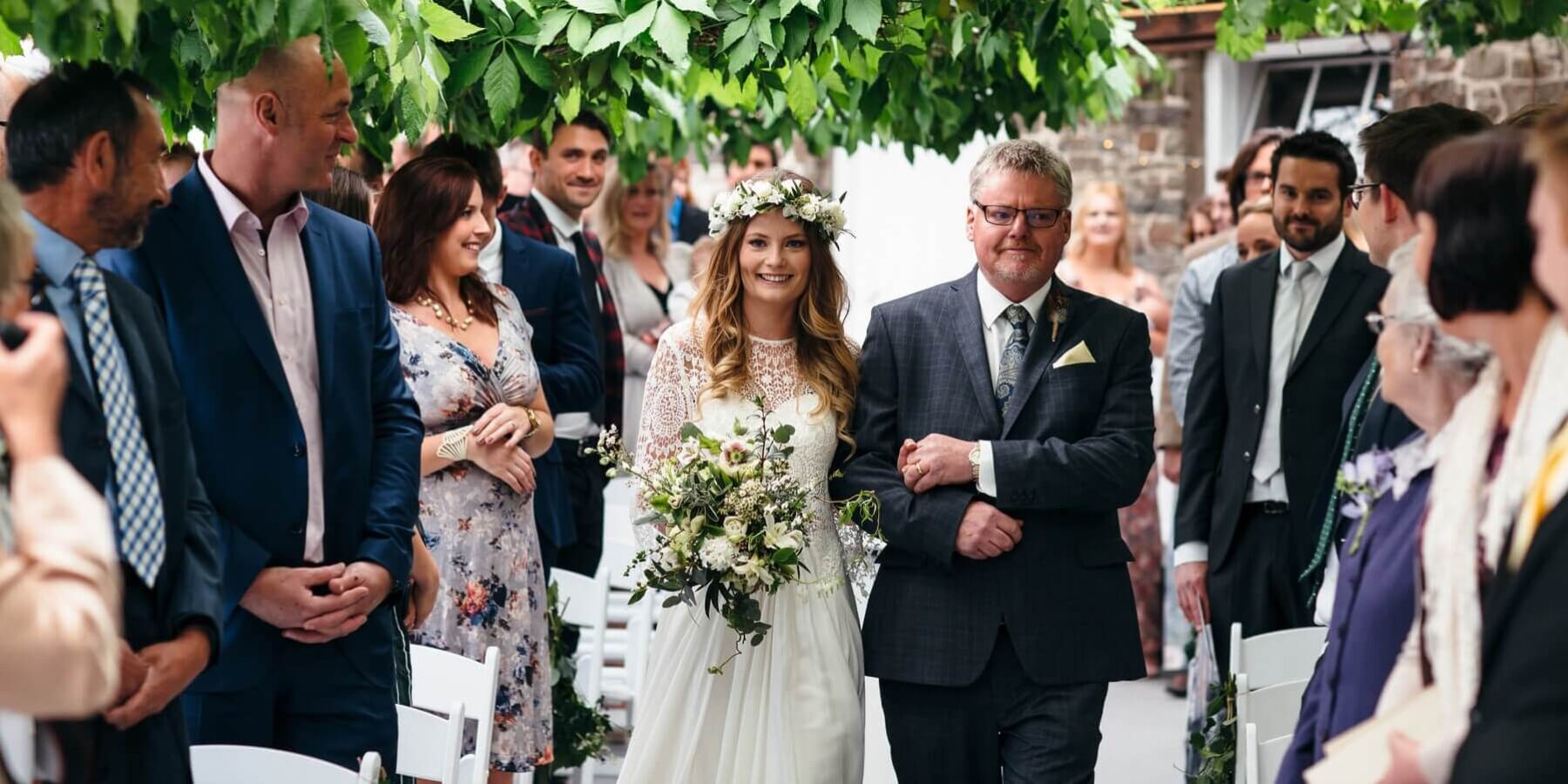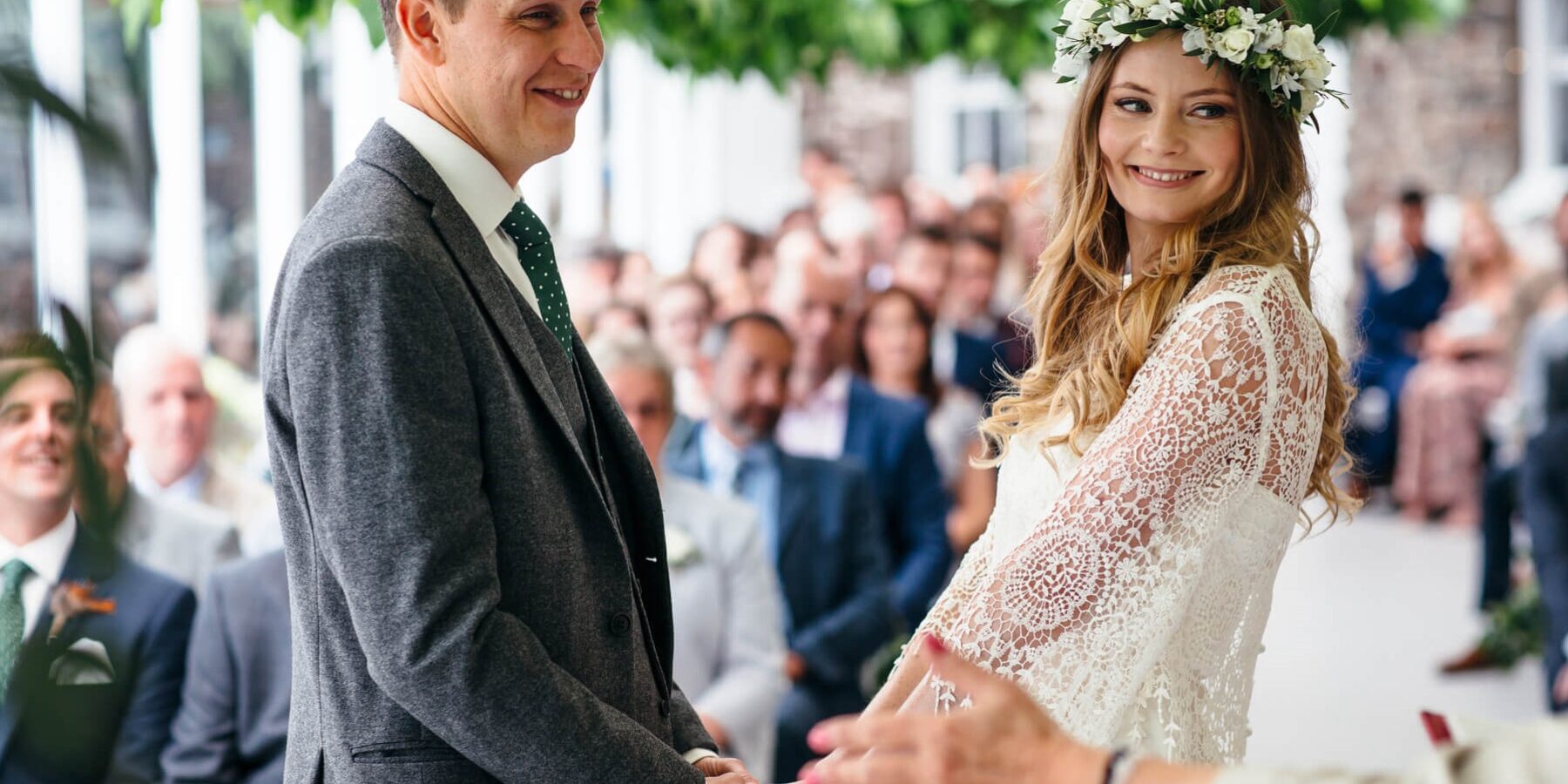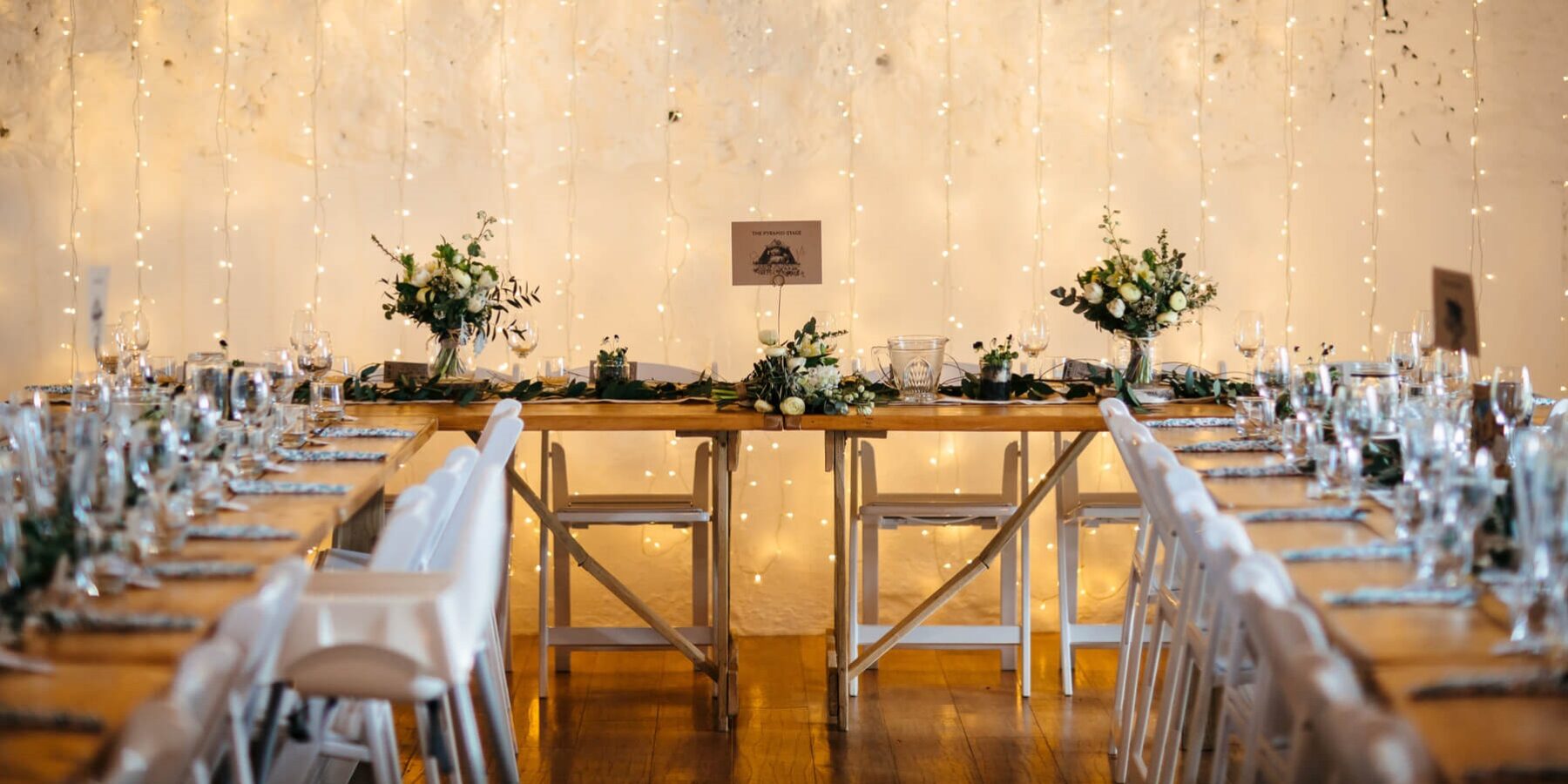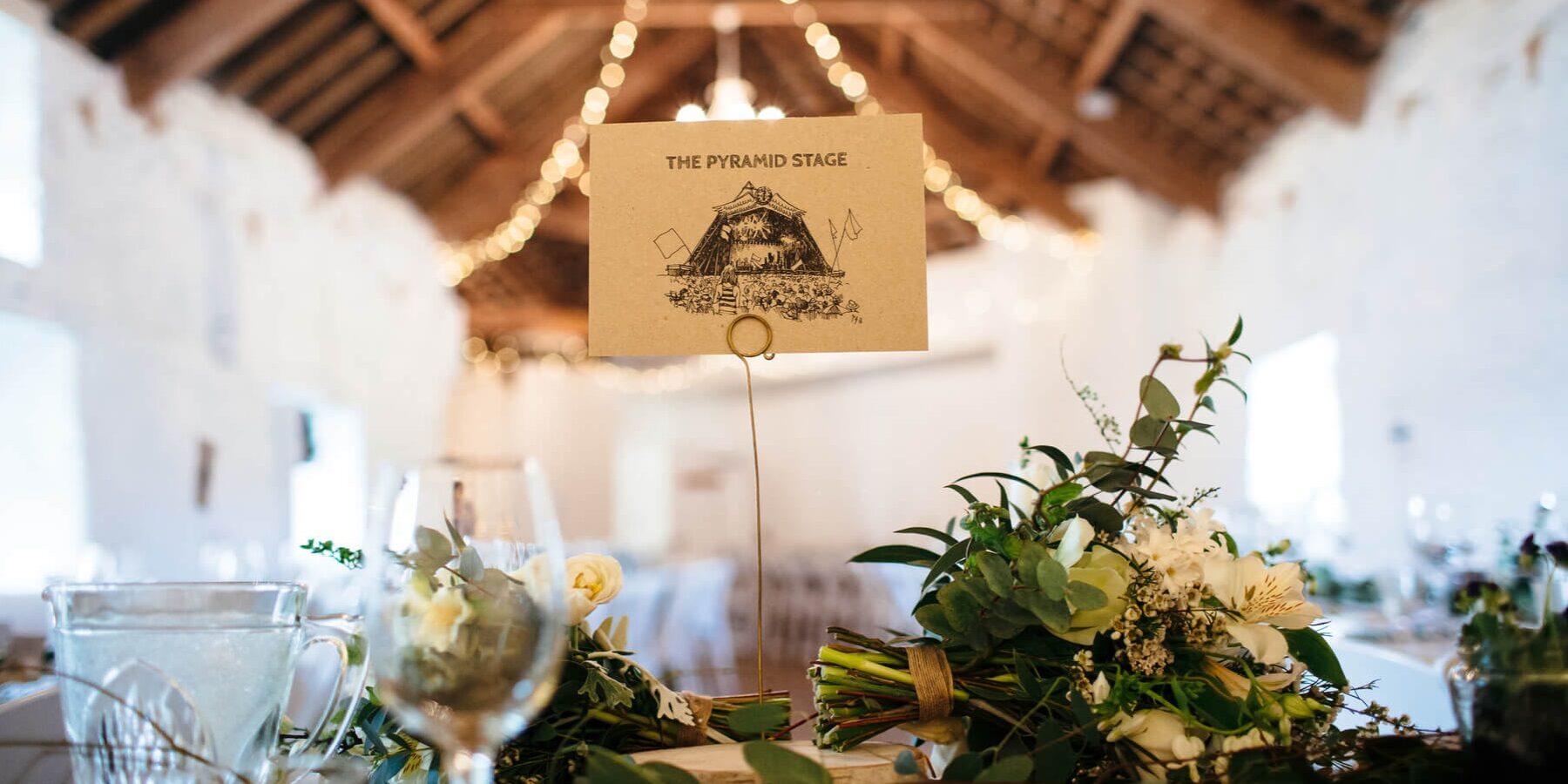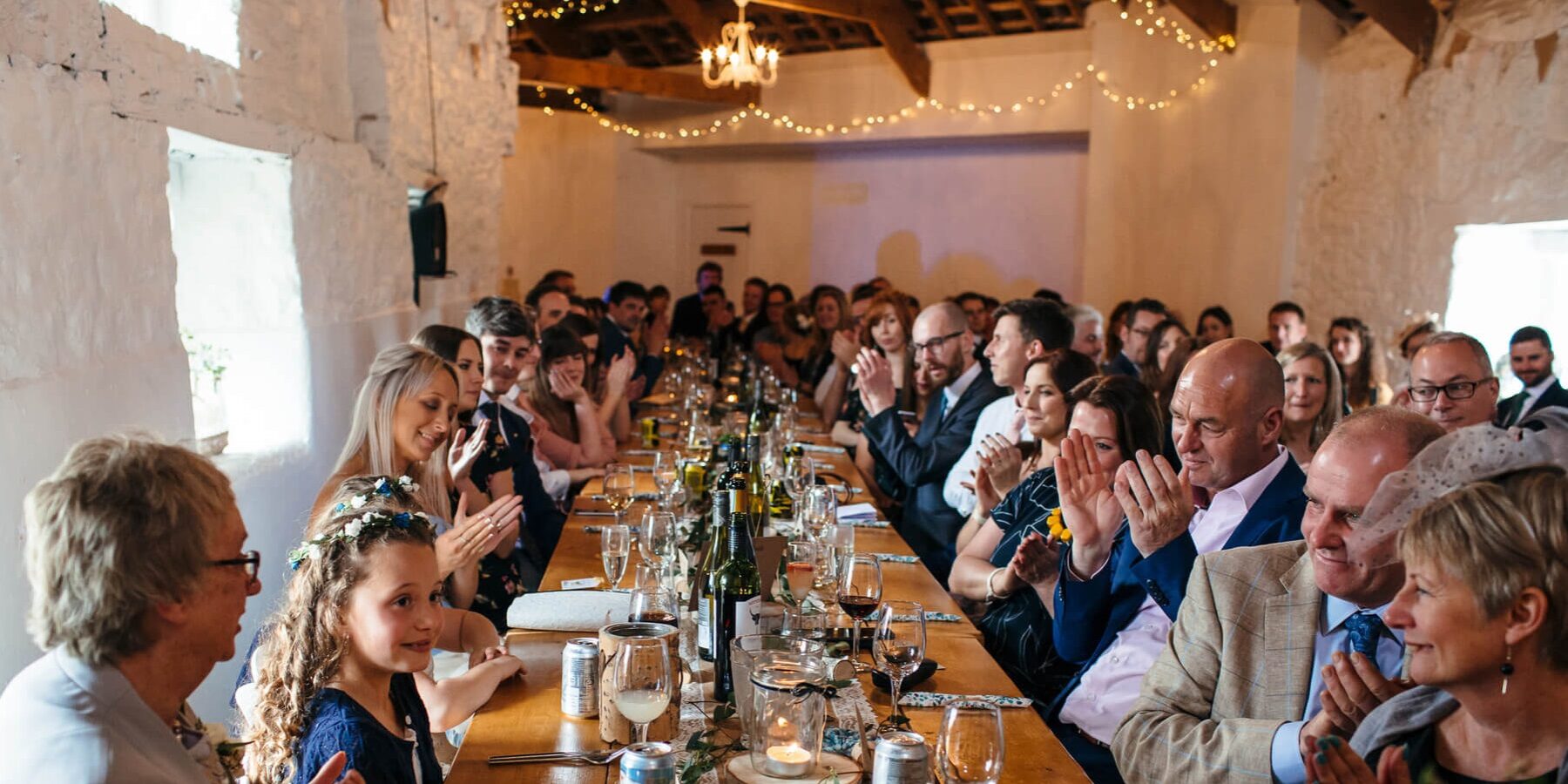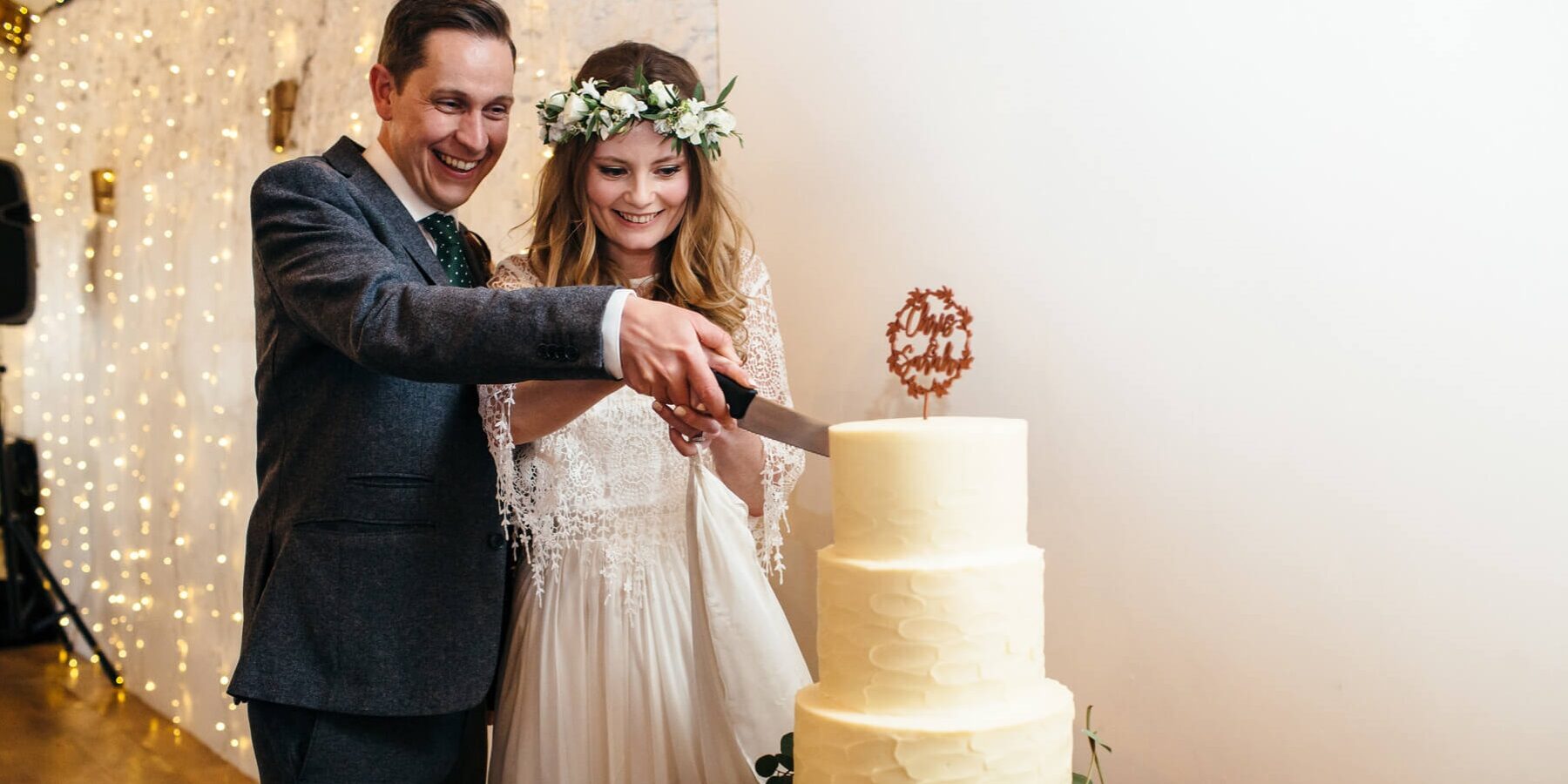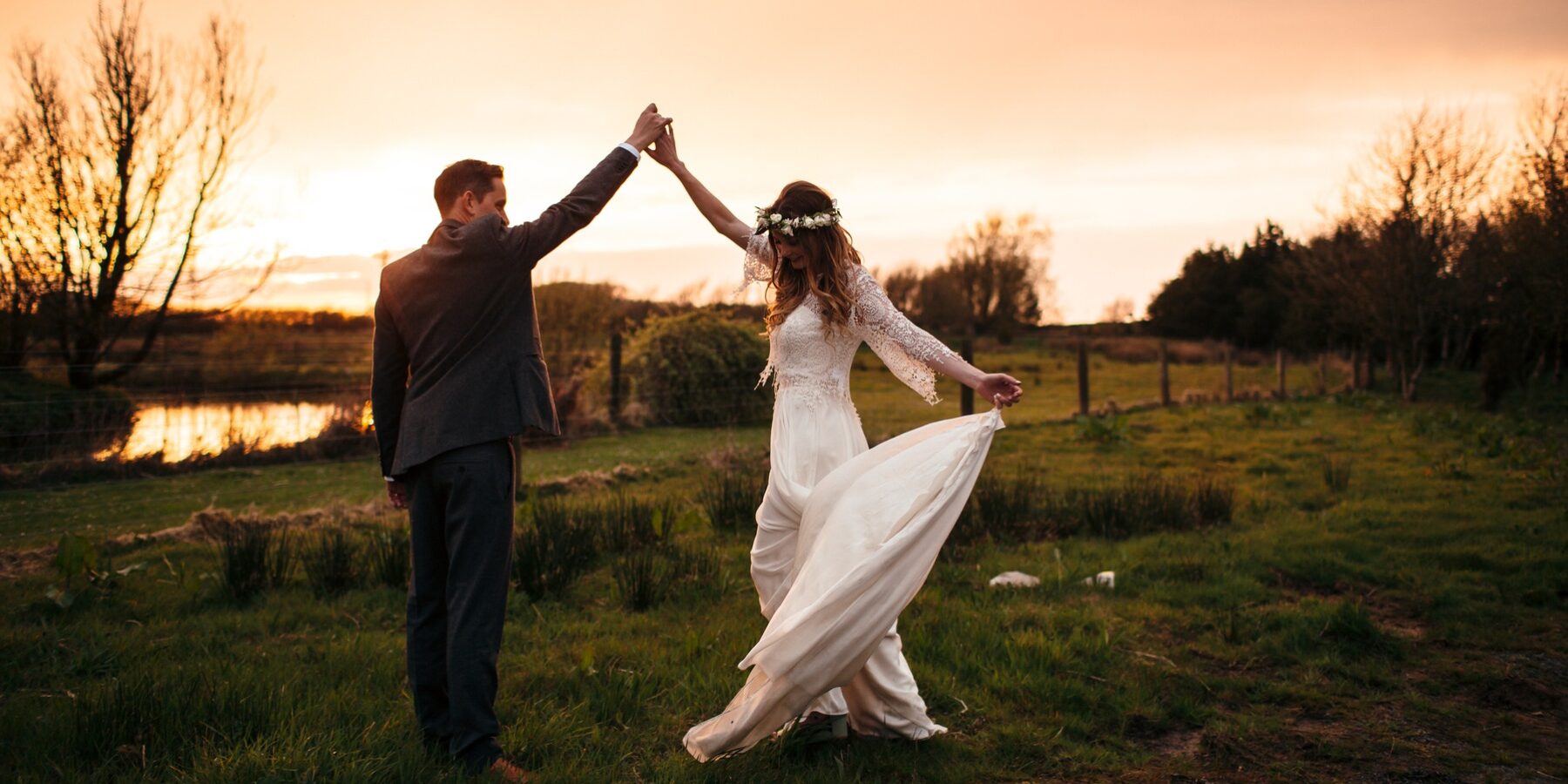 You can see lots more photos of Sarah & Chris' wedding, and other weddings
held at The Old Barn, in our gallery here.
Sarah and Chris live in Cheltenham, but Sarah is originally from North Devon. Chris proposed to Sarah on Christmas Eve after almost 12 years together.
Why did you choose The Old Barn?
We chose it first and foremost because we didn't want our wedding day to be too formal – and it was within budget. We wanted a relaxed and fun day for both us and our guests. Secondly, we loved the fact it was a DIY venue which enabled us to choose our own caterers, entertainment and – very importantly – decorate in our own style.
On top of that both the conservatory and barn are beautiful spaces that we fell in love with them as soon as we saw them. There are also opportunities for great photos in and around the venue; it's only a 5-minute drive to the picturesque seaside village of Clovelly where we had some couples photos taken on the day too. For Chris it was the Dodgems that sold it – what other venue offers that?!
So, it was important to you that it was a 'DIY' venue …
Yes, very important. Not only was it an element of cost saving, but it meant we could put our own stamp on to make a really special day that was unique to us and demonstrated our personalities. We didn't want an all-in-one package, or to be restricted on the choice of caterers and so on. The DIY element also adds to the fun of the weekend – getting all our family and friends to help out and set up the day before.
What budget were you working to?
We were on a relatively tight budget compared to most weddings. You can get carried away with wedding planning, but the Old Barn enabled us to do everything we wanted but kept our costs down at the same time. I think a big saving was decorating it ourselves, providing a lot of our own drinks and the fact that the ceremony was in the same place as the reception (no fancy car hire needed). Over all we spent just under £12K.
What sort of style were you aiming for?
We wanted a rustic/bohemian style, incorporating lots of natural elements. The green vines in the conservatory worked perfectly with this theme, and we used lots of foliage and fairy lights in the barn. We added lots of candles, plants and home-made wooden signs to add our own style. The Old Barn is a fantastic blank canvas for any rustic themed wedding and needs only minimal decoration to transform it.
What did you wear?
After much searching I fell in love with a Catherine Deane dress (3 separate pieces). This was from The Ivory Secret boutique in Crediton who were fantastic. Chris wore a grey herringbone 3-piece suit from House of Fraser which along with a green polka dot tie and home-made feather button hole worked perfectly with the rustic theme.
Tell us about the actual ceremony …
I was nervous about the ceremony but Joss from The Old Barn team and the Registrar put me at ease. It was amazing to see all our loved ones in one room, and after walking down the aisle I felt more relaxed. Our little nieces did a reading of 'The Owl and the Pussy Cat' together which was a very cute moment. The weather was kind to us for April and the showers stayed away. The conservatory itself was so light and airy, and the green vines made it look even more beautiful. Everything went very smoothly and just as planned – it was perfect and exactly as we had imagined!
What about your food and drink?
Another plus for us at the Old Barn was that we could provide our own welcome drinks and bottles of wine on the tables for the meal without paying corkage or being restricted on the type of drinks. This again saved massively on costs and sourcing the wine and beer ourselves meant we had endless options.
For welcome drinks we had a 'Beer Barrow' with a selection of craft beers, ales and soft drinks for guests to help themselves. Chris and a lot of our friends are into their beers so this was really important to get the choice and type of beer we wanted. We also had Prosecco (purchased at supermarket prices) and our own 'Pimp up Your Prosecco' stand.
For the food we hired Field to Fork Catering who cooked an amazing hog roast with a selection of excellent salad and potato dishes as well as a vegetarian Moroccan tagine. They were fantastic on the day and we had a lot of comments on how good the food was. Some of the guests even went up for thirds! Dessert was a selection of cakes made by family and friends. In the evening we had a Ploughman's style buffet which we organised ourselves and included local cheeses.
What about music?
We are very fortunate to have a friend as a DJ so we asked him to look after the music for the evening. We opted for a funk & soul themed disco as Chris and I love this type of music. It spans many decades so it was perfect to get everyone up on the dance floor!
What did your guests think of the dodgems?
We went on the dodgems together for the first session and then Chris went on every session after – I couldn't drag him off! All our guests thought the dodgems were amazing and I'm certain that it will help make our wedding day one of their most memorable and fun weddings they have attended. I don't think many people can say they have been to a wedding with dodgems before. We also had our own playlist playing which included songs from our Uni days, when we first met. It was definitely a highlight!
What was the best part of the day for you?
I loved the whole day – there were so many memorable bits. I loved the ceremony for its romance and uniqueness. Escaping down to Clovelly for half an hour (precious couple time!) for photos. The speeches had me in tears with laughter and the first dance, surrounded by all our loved ones looking on, was amazing.
In all I just loved the fact that the whole day was so relaxed and nothing was a chore.
Are you glad you had the day you did?
I couldn't fault the day we had. The weather turned out great, everything flowed well, and I don't think we ran behind that much either. It's a lovely feeling having all your friends and family together in one fantastic venue and I know they enjoyed it (almost) as much as we did. It really was the most incredibly perfect day that you dream of having.
Did you feel well taken care of by The Old Barn team?
Joss and Nigel were fantastic. I couldn't have wished for two nicer people to look after us on the day. Even in the run up to the big day Joss was great over email, and answered all my queries promptly. When I arrived at The Old Barn on the day they were so welcoming and helped calm my nerves. I know they did a lot behind the scenes and helped make the day run smoothly, so for that we are immensely grateful.